Think inflation is boring? Think again, because today we're asking the simple question (and a far more fun question than "what's up with inflation…"), "How much does a sandwich cost?" We wouldn't be asking that question if Len Penzo wasn't back for his annual sandwich survey! That's right, Len joins us today to walk through the findings of his annual survey of the cost of the 10 most popular brown bag sandwiches. Bologna is usually cheapest and BLT is usually most expensive. With the rising cost of some ingredients this year, do you think the results will be the same? Len describes his survey method and results with us and also shares the story of why he started the sandwich survey 13 years ago.
During our headline, we take a look at Sylvester Stallone's rise to fame and he recounts his days as a struggling, broke actor. How did he beat the odds and become successful? In this news piece, he talks about his struggles early in life and how he overcame them. We'll also throw out the Haven Life line to Anna who has a question about IRA contributions, and specifically a backdoor Roth IRA. And Doug will share some of his Vatican trivia.
Enjoy!
We couldn't bring you three shows a week without our sponsors!
Navy Federal Credit Union
If you're an active duty service member, veteran, D-O-D civilian, or military family member, you can join Navy Federal. That means if you've served in any branch of the military–you can join Navy Federal Credit Union. You could pay no fees, get low rates and rate discounts, plus earn cash back and grow your savings. Visit NavyFederal.org for more information.
Discover
A big thanks to Discover for supporting Stacking Benjamins! Discover matches all the cash back you earn on your credit card at the end of your first year automatically with no limit on how much you can earn. Learn more at Discover.com/yes.
---
Our Headlines
---
Our TikTok Minute
---
Len Penzo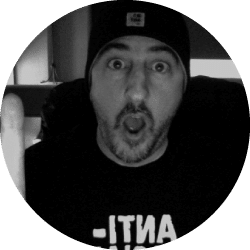 Big thanks to Len Penzo for joining us for his annual sandwich survey again! See his full blog post and survey results here and visit his website.
---
Doug's Trivia
Who painted the famous ceiling in the Sistine Chapel at the Vatican?
---

Need life insurance? You could be insured in 20 minutes or less and build your family's safety net for the future. Use StackingBenjamins.com/HavenLife to calculate how much you need and apply.
Anna calls in to ask about a backdoor Roth IRA contribution.
---
Want more than just the show notes? How about a guide with STACKS of related, deeper links?
Check out The Stacker, our email that comes with every Monday and Wednesday episode, PLUS a list of more than 19 of the top money lessons Joe's learned over his own life about money. From credit to cash reserves, and insurances to investing, we'll tackle all of these. Head to StackingBenjamins.com/STACKER to sign up (it's free and we will never give away your email to others).
---
Other Mentions
---
If you want to listen to prior year sandwich survey interviews, check them out here.
---
Written by: Brooke Miller
Miss our last show? Listen here: Why Not Try a Low Cost, Big Living Approach?
✕
Join 9K+ Stackers improving their money savvy.