Recently I've been sharing my Nvestly journey with you (see: Winning!). For the next few months, I'd like to swap over to my Motif investment.
What is Motif Investing?
Motif is a company that allows you to pick a number of companies ( based on an investment idea or motif) and purchase them as a single transaction. The good news? As long as you follow some guidelines, your trades are commission free, and others can follow your Motif if you decide. Here's a look at mine: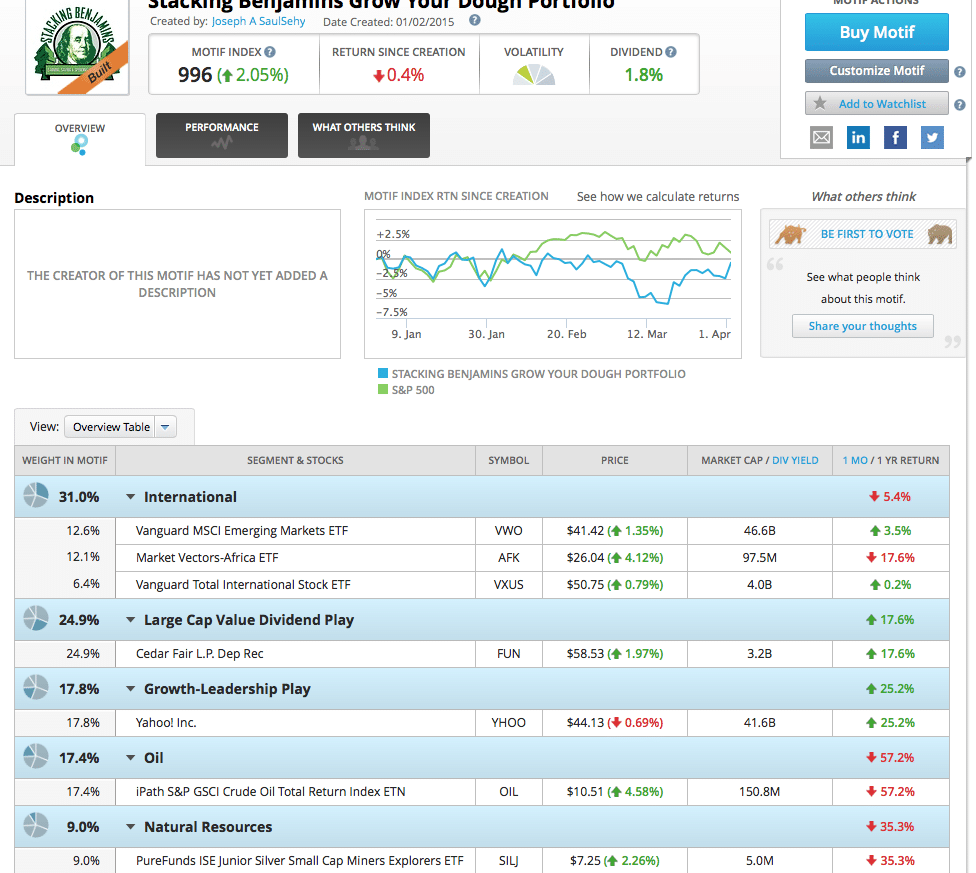 Let's talk about how I picked these companies, why I choose them and my strategy in the Grow Your Dough Throwdown 2.0.
What Is The Grow Your Dough Throwdown?
Jeff Rose of Good Financial Sense created the first grow your dough throwdown, a challenge among a group of bloggers, in January of 2014. While I enjoy a good challenge, I've always had a problem with this particular contest….but I participate anyway because it's fun and an interesting diversion. I can also try out some strategies and use it to teach you about individual stock investing!
My first (and easily biggest) problem, is that this only is a 12 month challenge. Studies have shown that you don't predictably win with stocks over the short run….you win over long periods of time. Anyone investing for a twelve month result has as good a chance winning at the roulette wheel. Why not just head to Vegas? It's a hell of a lot more fun than buying stocks….
You can see this in my personal results of last year's challenge (see "Yeah, About That Money We Lost…"). I was kicking ass through the middle of the year, reliably in first or second place. Over the course of the competition, however, my portfolio, full of huge "bets" and risk, died an ugly, public death.
I'd predicted that I'd either win or finish last. I was correct-o-mungo. For the first half of the year, I was either winning or close to winning. I finished at the bottom of the heap as my big bets died in a changing market.
….Which Brings Us To 2.0
This year I took more conservative approach. For the 2015 edition of the Grow Your Dough Throwdown, I decided to play some contrarian themes that could work in my favor, but this time tie them to investments that are more steady and reliable over the long term.
You can see this in my portfolio above. My dividend payments (which I'll dive into more in the near future) represent nearly a 2 percent annual return. That's 2 percent I can bet against volatility (meaning, for this competition, I can lose 2 percent and still break even.
My Themes
First, I wanted a couple of stocks that I believe in, each for different reasons.
Cedar Fair (FUN), is a regional theme park operator, with properties ranging from Cedar Point along Lake Erie in northern Ohio to Knott's Berry Farm in the Los Angeles area. The parks are known as clean, fun, and a good use of a day. Cedar Point is consistently rated the #1 regional theme park in the country by groups who like these sorts of thing.
With oil prices low, this is a great year for road trips, I think. Cedar Fair, with their competitive advantage in this area, is positioned to take advantage of what could be a great summer.
However, there's a hidden bonus to buying FUN. Because they're a limited partnership, investors of FUN enjoy a monster dividend payment, currently at 5.3%. While regional theme parks can be volatile, FUN is a leader in their market segment and gives me a dividend? Sign me up. FUN represents nearly a quarter of my motif.
Yahoo! (YHOO) is another stock I'm a fan of if for only one reason: Marissa Mayer. While insider investors complain that Yahoo! hasn't yet successfully turned themselves around, everything looks rosy from where I sit. Rather than compete on tech, over the last few years, Mayer has repositioned Yahoo! as a media company. The hiring of Katie Couric, who's scored some fantastic interviews and led a nice charge of their fledgling news division looks promising. The popular show Community airing on Yahoo! is a step toward the competitive but lucrative world of television content…and based on the rabid audience (including me) seems to be the perfect "name brand" show to put them on the map. So….I'll admit that I love the leadership Mayer has brought to the table at Yahoo! There's plenty to be worried about here. Will they survive? Can they make the transition work? With a one year time frame, I need to take a couple of bets. This is one I'll enjoy tracking.
That brings up a couple of points……first, investing in individual stocks is a job. Once you buy a stock, you need to stay in touch with it. You're an owner of the company and need to take that seriously. Sure, I can't call Mayer on the phone and tell her my thoughts, but I can move my money if I disagree. For that reason, you need to own companies that you're going to enjoy tracking. That's not the same thing as buying companies that you love. You shouldn't get emotionally invested in your stock picks. A pragmatic owner will make buy or sell decisions based on facts, not on trust or hope.

Second, you need to know what the problems are with your positions, and be able to articulate how you think companies will overcome them. If you don't understand the company well enough to articulate their advantages and problems, you probably don't know enough to invest yet.
My Third Theme Is Killing Me
Here's where I THOUGHT I knew enough, but clearly didn't. I bet on oil as a commodity….not oil companies and their ability to make a profit. I'll address this in my next installment.
✕
Join 9K+ Stackers improving their money savvy.