Human emotion makes us, well, human. While it's much more fun to feel happy, excited, or optimistic, there's no denying that we also feel sad, confused and frustrated at times. Helen Russell joins us today to talk about why feeling those negative emotions is important and how it can actually make us happier in the long run. She talks about validating the sadness and finding ways to cope and move forward to a happier life.
During our headline, our friend Dave from Tennessee is in the news, but not for good reason. A former advertiser on Dave Ramsey's show is in hot water for deceptive business practices and we dive in. Then we talk about the in's and out's of required minimum distributions during our Haven Life line call. And Doug will include some of his trivia.
Enjoy!
We couldn't bring you three shows a week without our sponsors!
T-Mobile for Business
At T-Mobile for Business, unconventional thinking means they see things differently, so you can focus on what matters most. Their unique approach has made T-Mobile for Business the leader in 5G, #1 in customer satisfaction, and a partner who includes benefits like 5G in every plan. So you get it all. Without trade-offs. Unconventional thinking. It's better for business. T-Mobile for Business.
Dell Technologies
Dell Technologies advisors have the tech solutions you need to get out in front and stay ahead of the game. Call an advisor today at 877-ASK-DELL and do more with modern devices and Windows 10 Pro.
Geico
Whether you rent or own, Geico makes it EASY to bundle home and car insurance. Go to Geico.com today.
Discover
A big thanks to Discover for supporting Stacking Benjamins! Discover matches all the cash back you earn on your credit card at the end of your first year automatically with no limit on how much you can earn. Learn more at Discover.com/yes.
Felix Gray
Get yourself a pair of glasses made for the 21st century and designed for modern, hardworking eyes. You have nothing to lose (except maybe eyestrain). Go to FelixGrayGlasses.com/STACKER for the best Blue Light glasses on the market.
---
Our Headlines
---
Helen Russell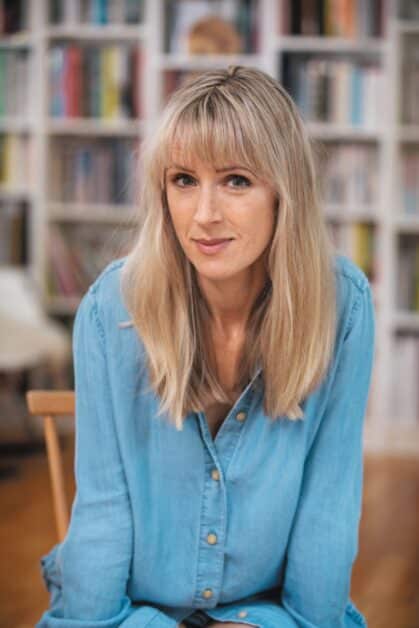 Big thanks to Helen for joining us today. To learn more about Helen, check out her website. Get a copy of her book, How To Be Sad, here.
---
Doug's Trivia
On the back of a dollar bill is an eagle with a shield. How many stripes are on the shield?
---

Need life insurance? You could be insured in 20 minutes or less and build your family's safety net for the future. Use StackingBenjamins.com/HavenLife to calculate how much you need and apply.
JT wants to know the ins and outs of required minimum distributions from an IRA.
---
Want more than just the show notes? How about a guide with STACKS of related, deeper links?
Check out The Stacker, our email that comes with every Monday and Wednesday episode, PLUS a list of more than 19 of the top money lessons Joe's learned over his own life about money. From credit to cash reserves, and insurances to investing, we'll tackle all of these. Head to StackingBenjamins.com/STACKER to sign up (it's free and we will never give away your email to others).
---
We have lots of additional tools and interviews on related topics. Check out these podcast episodes!
---
Written by: Brooke Miller
Miss our last show? Listen here: Questions To Ask Before You Give Money (Plus Double Your Salary!)
✕
Join 9K+ Stackers improving their money savvy.