You've probably heard of having skin in the game, but what about having soul in the game? Having soul, in whatever game you choose, brings purpose and meaning to life. Our guest today learned about putting his soul into his work and finding true purpose from his parents. Vitaliy Katsenelson grew up in a small Russian town and saw the struggles and sacrifices his parents made to give him and his siblings a great life. Vitaliy shares the lessons he learned and why money is secondary to finding purpose in life.
That's not all for today though. In our headline segment, we're brining up Gamestop stock again, but not for the reason you might think. The SEC is holding the magnifying glass to a little term called payment for order flow which became its own scandal during the Gamestop stock craze. We share what it means and why it matters. We also answer David's question about helping his mom find new work after an injury and Doug will share his trivia.
Enjoy!
---
Our Headline
---
Vitaliy Katsenelson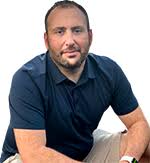 Big thanks to Vitaliy for joining us today. Hear more from Vitaliy at his website and grab a copy of his book Soul in the Game: The Art of a Meaningful Life. As a bonus to our listeners, Vitaliy is offering to send everyone who purchases his book four extra chapters that he wrote. Go to soulinthegame.net and send him a picture of your receipt to redeem the extra chapters.
---
Doug's Trivia
What city's river caught fire, prompting the creation of the EPA?
---

Need life insurance? You could be insured in 20 minutes or less and build your family's safety net for the future. Use StackingBenjamins.com/HavenLife to calculate how much you need and apply.
My mother hurt her knee and can no longer do the work she's been doing for the last decade and she won't like a desk job. What are some ideas for her to earn an income?
---
Want more than just the show notes? How about our new newsletter with STACKS of related, deeper links?
Check out The 201, our email that comes with every Monday and Wednesday episode, PLUS a list of more than 19 of the top money lessons Joe's learned over his own life about money. From credit to cash reserves, and insurances to investing, we'll tackle all of these. Head to StackingBenjamins.com/the201 to sign up (it's free and we will never give away your email to others).
---
Other Mentions
Written by: Brooke Miller
Miss our last show? Listen here: The Power of Used Cars and Big Lifestyles (with Buffie Purselle)
✕
Join 9K+ Stackers improving their money savvy.