We've told plenty of incredible underdog financial stories on the podcast, but none like the one's you'll hear today. More than recovering from 6-figure debt or learning how to balance their budget, today we're excited to bring you the stories of the first black Americans, some of whom survived slavery, but who all went on to become millionaires. Shomari Wills, author of Black Fortunes, joins us today to bring incredible stories of fortitude, challenges, and surpassing hardships.
We're sticking with the financial "comeback" theme during our headlines. Think you should throw in the towel on the whole financial independence thing because you've made a few mistakes? While you may not have the star power to pay off a $9 million tax evasion bill, like today's headline focus, Mike "The Situation" Sorrentino, your path to independence isn't over because you've wracked up some debt or made some bad decisions. Plus, a big life insurance company just was sold to another. If you're a client, what happens to your policy? We'll describe how it all works on today's show.
Of course we'll also throw out the Haven Life Line to a lucky listener AND save time for some of Doug's trivia. Enjoy!
---
Thanks to our sponsors who give us the opportunity to bring you 3 shows a week!
Navy Federal Credit Union
If you're an active duty service member, veteran, D-O-D civilian, or military family member, you can join Navy Federal. That means if you've served in any branch of the military–you can join Navy Federal Credit Union. You could pay no fees, get low rates and rate discounts, plus earn cash back and grow your savings. Visit NavyFederal.org for more information.
Discover
A big thanks to Discover for supporting Stacking Benjamins! Discover matches all the cash back you earn on your credit card at the end of your first year automatically with no limit on how much you can earn. Learn more at Discover.com/yes.
Jordan Harbinger Show
Thanks to the Jordan Harbinger show for sponsoring this episode of Stacking Benjamins! You can subscribe wherever you already listen to us, or over at JordanHarbinger.com/Subscribe.
Talking Real Money
Co-hosts Don McDonald and Tom Cock deliver straight forward, honest, advice on building the wealth you need for a more secure future. You can listen in wherever you listen to podcasts, or at TalkingRealMoney.com.
---
One of your financial (or health) companies get acquired? Here's what you need to know.
Fall of the wagon? We're not saying it'll be easy, but there's (almost) always time to get back on the right path.
---
Shomari Wills, author of Black Fortunes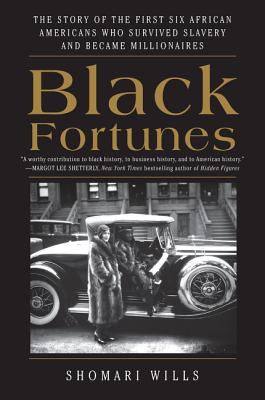 A special thanks to Shomari for spending some time with us today, and shining some light on just a few of America's first black millionaires. You can read more from Shomari by ordering his book Black Fortunes or dropping a line on Twitter: @ShoWills.
---
Doug's Trivia
On today's date in 1913 the U.S. government started a new kind of tax, what was the tax?
Julie wants advice on getting on the same financial page with her spouse. She asks, how can she get her husband on board to track their spending and helping reach their goals?
---
Written by: Richie Rutter-Reese
Did you love today's show? Share it below!
✕
Join 9K+ Stackers improving their money savvy.