Everyone is on their own path toward their financial goals. Your job, income, lifestyle, and values all play a role in that. Where are you on your journey? In a job you dislike or looking for ways to make big moves with your finances? Sam Dogen is the force behind Financial Samurai. He's been in the finance industry for decades, starting his career at Goldman Sachs. He quickly realized it wasn't the job he envisioned and he set out on a path to financial independence. He's here today to share his top money lessons and tips from his career. He talks about how to evaluate your net worth, how to think in probabilities instead of absolutes, why winning isn't the same as not losing, the importance of continuing to show up, and more.
In our headline segment, we dive into the truth behind "buying the dip". What does it mean and does it work in the long run? We'll explain why it's popular but doesn't always work like people hope. We'll also throw out the Haven Life line to Jess who has a question about her health insurance plan. And of course, Doug will share his trivia.

Deeper dives with curated links, topics, and discussions are on our newsletter, The 201, available at StackingBenjamins.com/201.
Enjoy!
---
Our Headline
---
Our TikTok Minute
---
Sam Dogen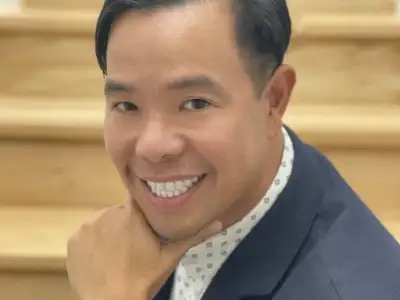 Big thanks to Sam Dogen for joining us today. Hear more from him at Financial Samurai. Grab a copy of his book Buy This, Not That: How to Spend Your Way to Wealth and Freedom.
Watch the full interview on our YouTube page:
---
Doug's Trivia
Based on his economic principles, if Papa Smurf walked into a Kohl's department store to buy a gift for Gargamel, how much would he expect to pay?
---

Need life insurance? You could be insured in 20 minutes or less and build your family's safety net for the future. Use StackingBenjamins.com/HavenLife to calculate how much you need and apply.
Jess currently has a health insurance plan with a HSA but she was recently diagnosed with a chronic illness. She wants to know if it's better to stick with her HSA plan to choose a new plan without a HSA but with lower premiums.
---
Want more than just the show notes? How about our new newsletter with STACKS of related, deeper links?
Check out The 201, our email that comes with every Monday and Wednesday episode, PLUS a list of more than 19 of the top money lessons Joe's learned over his own life about money. From credit to cash reserves, and insurances to investing, we'll tackle all of these. Head to StackingBenjamins.com/the201 to sign up (it's free and we will never give away your email to others).
---
Written by: Brooke Miller
Miss our last show? Listen here: Does Faster Equal Better With Financial Decisions? – Rewind
✕
Join 9K+ Stackers improving their money savvy.