This is my monthly update on the competition I'm competing in with several other financial bloggers. The competition was started by Jeff Rose at Good Financial Cents. You can find my (much better) update for last month here.
…and this is the month I lost lots and lots of money.
All those emerging markets gains? Gone.
Gains from mining? Yeah, none.
Diversification from my beverage firm? Irrelevant.
Playing low volatility? Hasn't really worked.
While the stock market lost 3.1 percent this month, my portfolio fared much, much worse.
Here's the photo:
As a painful reminder, this is where I stood a month ago: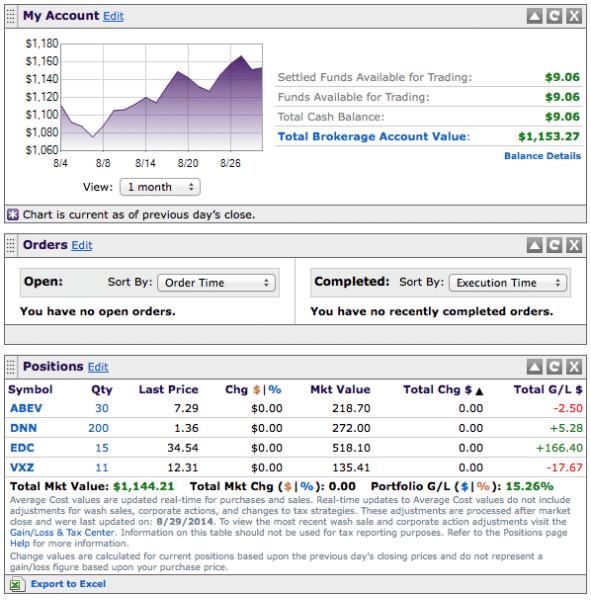 The damage? I lost 18% of my portfolio value in September.
That's crushing disappointment, but let's clarify.
If you've been following along, I'm not disappointed that my portfolio lost money during the Grow Your Dough Challenge. As an investor, you expect that there'll be wins and losses. As long as your wins outnumber your losses, you'll come out ahead. No, I'm disappointed for another reason.
This portfolio was supposed to respond positively to US stock market downturns.
On an absolute level, I imagined that I'd probably lose money too when the market dropped. However, in this case, I was expecting that my losses would be far less than my competitor's losses. However, while I don't yet have my competitors numbers, I know that I lost so much more than the market that I'm now looking up at many more people than I was last month (when I was sitting comfortably in second place).
What Went Wrong
While we might think my volatility play would have been the undoing of me, it wasn't. Volatility actually was up for the month of September, holding my original investment steady, minus trading costs. No, it was my mining stock that sank 20% and my emerging markets stalwart EDC ETF that lost 27% of its value that crushed me. Because I'm investing in SE Asia primarily, the problems in Hong Kong and Thailand ripped the portfolio.
What Do I Do Now?
Hopefully, mining will come back. I knew DNN was a volatile play (it's been this price before and will be again, I'm sure….). It's too late in the game for me to trade in my emerging markets position, although I've pointed out in the past that I chose a particularly risky investment. At this point in the game my job will be to hold tight and hope that I rebound or stay level if the market continues to sink. If I had money right now I'd be investing more in DNN. It's a somewhat stable company and I love buying while the stock is low. However, we're not allowed to add new dollars and I don't want to pay an $18 Scottrade trading fee to switch.
Lessons?
I've been saying since the beginning of the Grow Your Dough Challenge that it's dangerous to invest the way I've invested in this portfolio and this month I proved it. (WIN!) While I was winning, it was pretty fun to see that I was at the head of the charge against my competitors. However, volatility is a two way street: when you take more risk than everyone else you'll score bigger wins and suffer bigger losses. I always groaned when a client told me they wanted to "take some risk." Usually it meant that they wanted to win big. Most of these people were VERY frustrated when the market turned south, even if I'd explained ahead of time that the law of gravity applies to investments like everything else.
Investing in volatile stuff is fine for the long term. Over short runs? It's a far better idea to stick to risk-free or at least risk-reduced investments.
✕
Join 9K+ Stackers improving their money savvy.