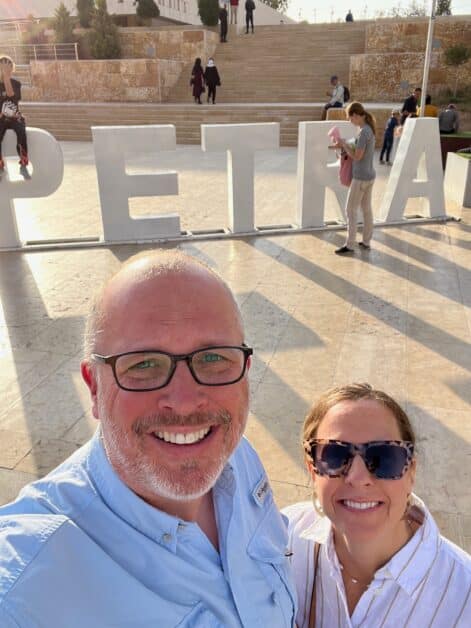 See Part 1 where we discuss our decision-making funnel which lead to trip and how we initially made our way to Jordan, and ultimately Petra, here. (link)
See Part 2 where we meet our tour group and visit the Dead Sea, Jaresh, and Mt. Nebo here. (link)
If we'd ever taken the time to scribble a "bucket list" on paper, we'd all have a small number of places in bold, highlighted, and underlined. Petra was for us–and may be for you–one of those. We climbed on the bus at Mt. Nebo, sad to leave this iconic spot and saying goodbye to the spirit of Moses, but knowing we were one step closer to one of the trip's (and maybe life's?) highlights, Petra.
Indiana Jones, here we come!
But before that, Tauck narrated a bus tour of Amman.
Here's precisely why we always come early or stay late when joining a group tour. While this is the third group-led tour Cheryl and I have done, we recommend considering tours as a great way to pre-explore an area that you'd like to dig into further in the future. What we dislike most about tours is that you're focused on artifacts, places, and historical/topical sites instead of spending time with the people and the culture, which we both believe most often makes a trip special. So why use a tour at all? You can skim the region, knowing that nothing is going to suck. A bus tour of Amman, by definition, is skimming.
While Suffrie, our guide, narrated we slowly circled through nice areas of the city we hadn't encountered during our early visit, including a peek at the US Embassy, which we were told not to take pictures of or our bus could be detained (I never could tell if they were joking, but there was no humor in the statement, so you won't be seeing a photo from us here of the facility). The worst part of this ride was that we had bus walls between us and the sights and smells of this beautiful city.
Another perk of touring? Tauck has done the legwork of knowing good stops between the big highlights, that will both give you time to stretch your legs and at the same time catch something special. We parked next in the town of Madaba, a small city with a not-so-old church hiding a big, ancient history. The floor of St. George's Greek Orthodox Church features one of the largest and oldest mosaics of a map of Palestine. This moderately-well preserved relic gives you a first-hand view of what they thought the "world" was like during these ancient civilizations.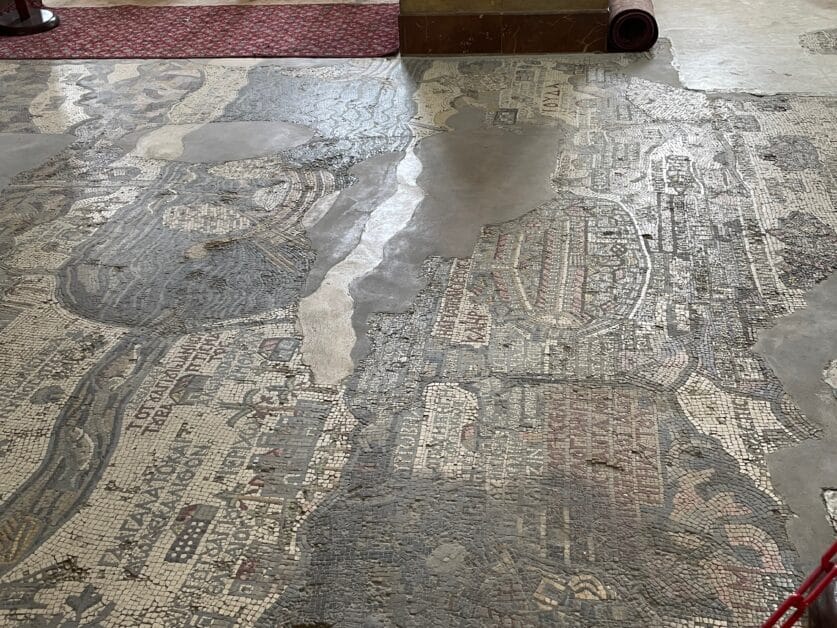 The church is fairly new, so how do they have one of the oldest Byzantine-empire aged mosaic on their floor? As builders of the current structure got to work in 1884, they were ecstatic as they dug to find the remains of a mosaic that at one time had been much larger.
After the church, we walked a few blocks to the Hikayet Sitti family restaurant. We were told at this stop we'd experience very good Jordanian beers or wines (this time all on Tauck's dime…time to drink our money back!) and also some of the best food our guides shared we'd have on the tour. They weren't kidding. The food here was delicious, and the family-run converted home-turned-restaurant was both comfortable and friendly. Of all of our restaurants on the tour, this is the one I'd probably come back to first. It felt less touristy, being on a quiet block and with owners who doted over us.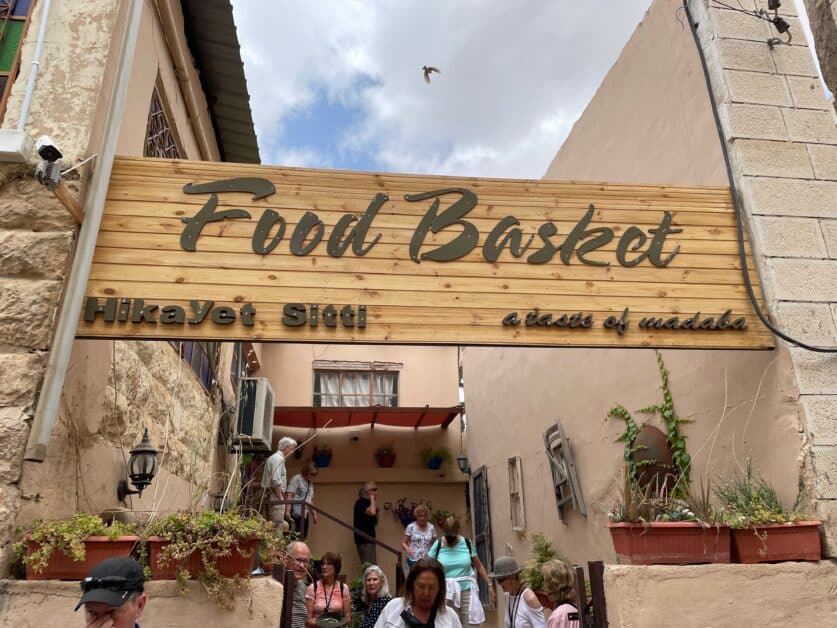 A doctor appeared, and this is also where we all received COVID tests, with results to come the following day. Because we'd chosen to take this trip with the pandemic still waning, we knew we were taking a real risk, and here it was in full color. If Cheryl or I failed the test, we wouldn't be able to board the plane in Aqaba to head to Egypt. Our trip would be over. I was more nervous than I'd been in high school AP tests!
As we neared Petra, the terrain became more mountainous like it had around Mt. Nebo. However, while Mt. Nebo was hilly, this was both hilly, rocky, and broken. As the bus twisted and turned to follow the increasingly snaking road, you could see why the ancient Nabateans had picked this spot for their ancient city. An interesting fact: because water was so scarce out here in the desert, the Nabateans controlled the trade route by controlling the water supply. For this reason they didn't keep many slaves (although many other civilizations at the time did) because a disgruntled slave would talk, and they needed to ensure that the average traveler wouldn't be able to find water on their own.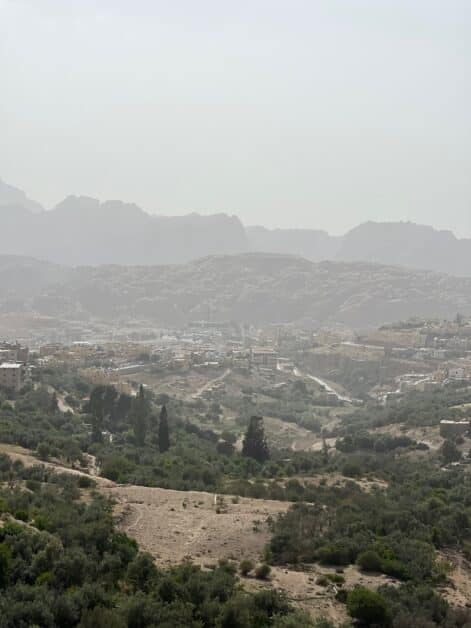 As the bus climbed, Bedouin camps dotted the countryside, as did small villages or clusters of homes. It became colder as we navigated toward our final destination. Homes became more frequent and then we quickly went from countryside to outskirts to suburbia…all while our bus climbed and climbed. Then we took a turn down that seemed too steep for a bus (glad I wasn't driving!) and we descended quickly toward the center of Petra, where we encountered yet another perk of a Tauck-led tour.
Our absolutely beautiful hotel, the Movenpick Resort Petra, was directly across the street from the Petra entrance area and museum! While I like walking as much as the next guy, if I can have easy access to the most beautiful spots, I'm in.
This hotel felt exactly what you'd think of if you imagined an old-world hotel in the 1920's Middle East made to accommodate wealthy Western visitors. An open-air lobby stretched above us at least five stories. Off to one side, two open doors led you into a rectangular, elegant room with a bar at one end and immaculately dressed waiters serving happy hour beverages. It begged us to come in, bring a book, some cards, or just a good friend or two with a good story, and to sit and relax.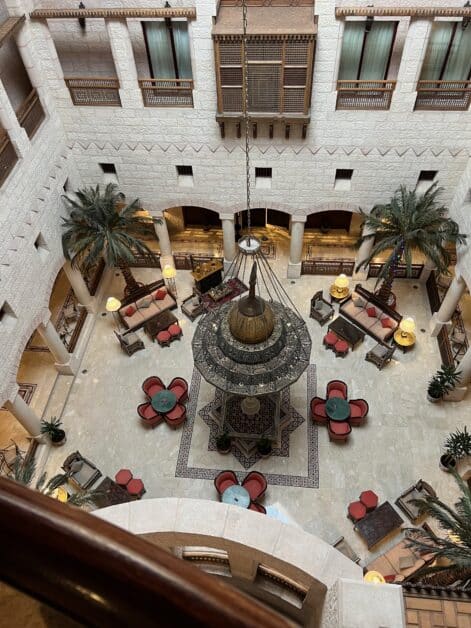 We were going to head for the bar but decided instead to hit the beautiful museum across the street. Suffrie had assured us that it wouldn't take long and was well worth the half hour. He wasn't wrong. The place was modern and shared a nice history lesson about the area, the Nabeteans who occupied the area, and their interactions with the Romans and other civilizations in the area.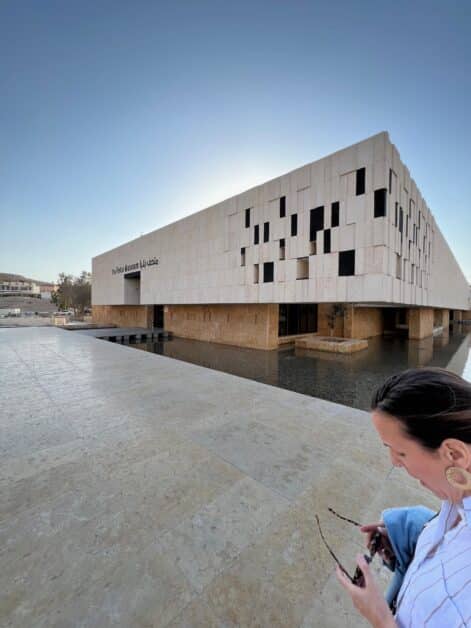 After a quick check of our room, we hit the lobby bar. Overpriced drinks washed down with mixed nuts…what you were paying for was this amazing room, where you could feel the history. It was possible that Indiana Jones had sat in the same seat I was in, enjoying a drink before going off to find some treasure and fight Nazis. I loved it.
Unfortunately, we couldn't stay long because tonight we were headed back to the bus and out into the countryside. We were going to experience the hospitality of the Bedouins! As the sun set, we made our way out into the country and parked in an empty parking lot next to a sheltered canyon with high walls on three sides and tents in the middle. A red carpet stretched out to our bus, and lunch bags anchored by sand with candles inside lit a path toward the tents. Tables were waiting for us inside the tents which opened out toward the middle of the clearing. Across the way were two musicians, one with a traditional guitar-looking thing (probably far from the actual name…) and the other on a simple drum. They sat in front of a fully lit replica of the Treasury, the famous landmark in Petra we were going to see in the morning. This area aptly they called Little Petra.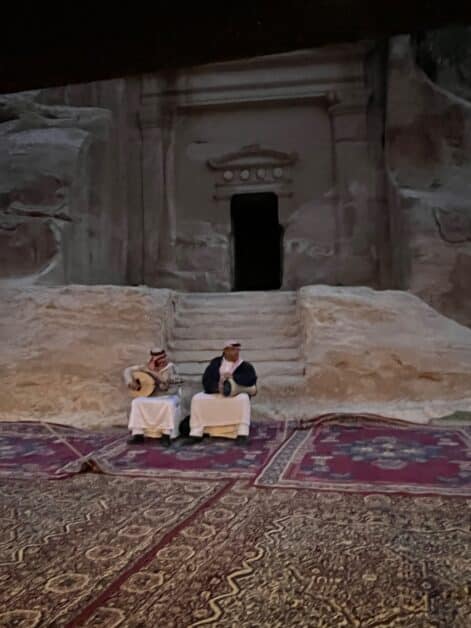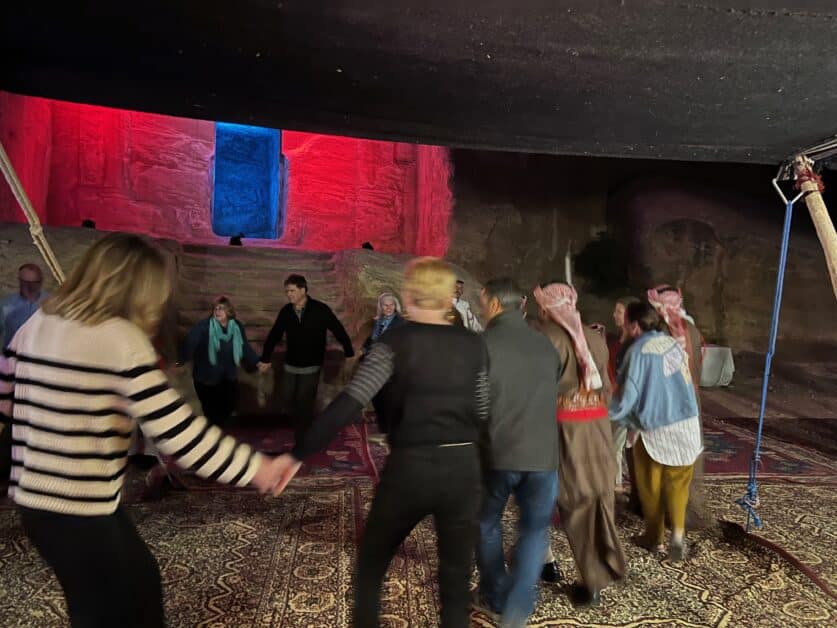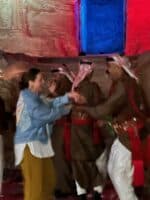 To our left women were cooking thin bread over a hot, smooth stone and attending fires under pots cooking up some delicious smells. Our hosts served us drinks and then a delicious meal. A group of male dancers appeared and put on a Jordanian version of a Vegas-style floor show, which before we knew it also involved the audience, with us being pulled in slowly, a few at a time. Within fifteen minutes were all dancing under the stars, with a lit-up "Treasury" behind us. Between the wine, the laughs, and the dancing, I was in heaven. Our hosts produced a hookah, and Suffrie taught us how to smoke the flavored scents. Now I was toking it up, at what now felt like a Petra-style college dorm party. Drinks, hookah, dancing, and the stars above. Could we just stay here? Unfortunately, we couldn't. We had a big day in the morning.
Fast forward ten hours. In the morning, we walked across the street and down a long, long path as Suffrie explained what we were about to see. Within a half mile of the entrance, we saw our first tombs. It turns out, Petra became less of a city and more of a mausoleum over time. The Nabeteans were so obsessed with death, that it was a huge status symbol to be buried in a prominent spot in the city. If you were only somewhat consequential, you were buried further out. The huge graves, like the Treasury, we'd see later in the center of town.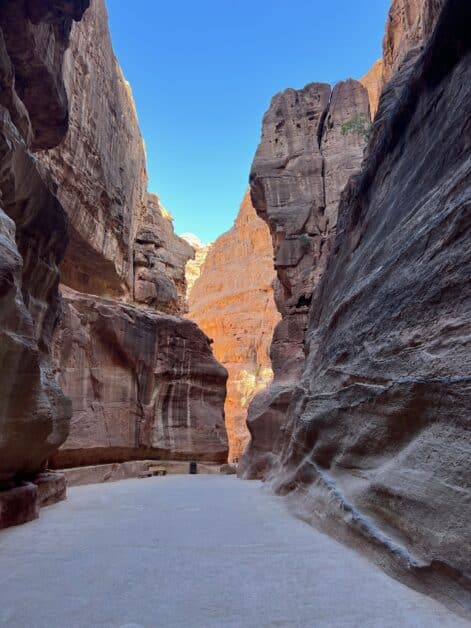 As we descended down the trail, the cliff walls lifted higher and higher, until it felt like we were walking through a small crack in the landscape. Suffrie, our guide, stopped us at a corner for a moment and played with his phone, finally holding it next to his microphone. Then he winked and began to walk.
In my ear I heard, "Da da DADA, da da da…." the unmistakable sounds of John Williams playing the Raiders of the Lost Ark theme.
The trail opened up…and there it was.
I cannot adequately describe the view of the Treasury, so I'll let our photos try to convey it, though they will not. Instead, I'll share this. There have been a few moments in my life when I thought I was ready for an experience, and it turned out I was not. Several years earlier, when I'd finished my first marathon I could not stop crying. I bawled my eyes out. When we saw the Treasury, I was dumbfounded. The feeling that ran over me was electric. I was here. At this incredible place. One that I hadn't realized until now I'd wanted to see this badly. I tried to just soak it in.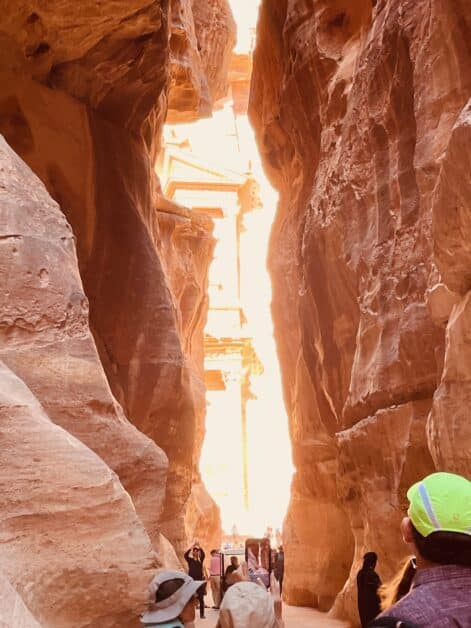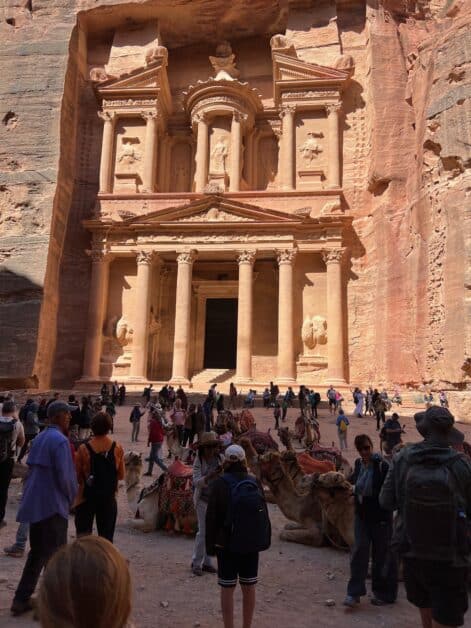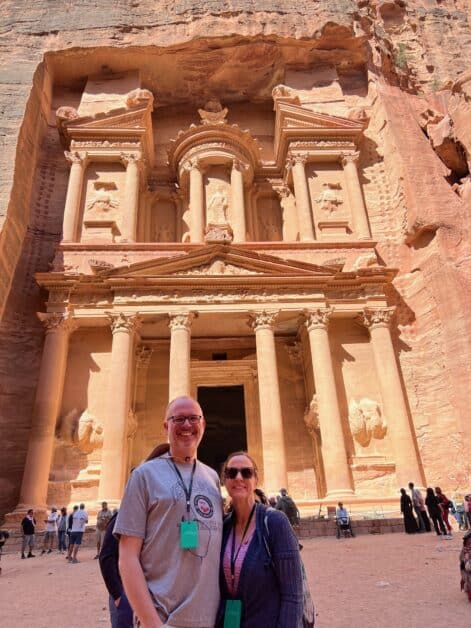 I won't dwell too much on Petra and what we did, besides to tell you that we took an amazing hike up to a building called the Monastery. The pathway to this area is steep, but there are vendors the entire way up (unbelievably). Chatting with them was fun. They were focused on me buying their stuff and I was focused on reaching the top with my wallet intact. While I achieved that goal, I'm only partly sad to report that I didn't on the way down. We fell prey to a merchant who we had a fun exchange with and bought from. We spent maybe ten dollars on a few beautiful things to remember the trip, and when I see them I remember the sweaty hike and the merchant. What a great day.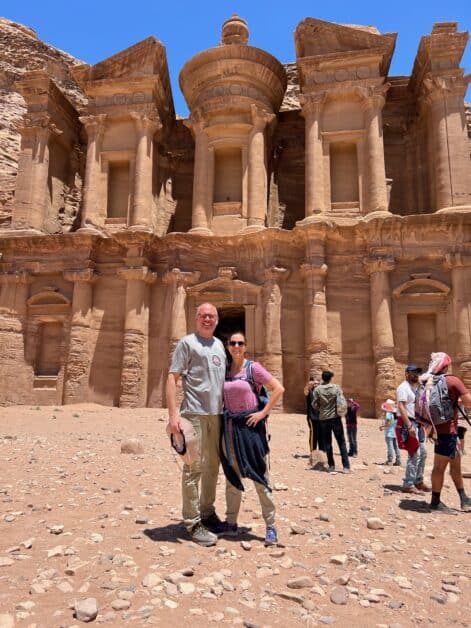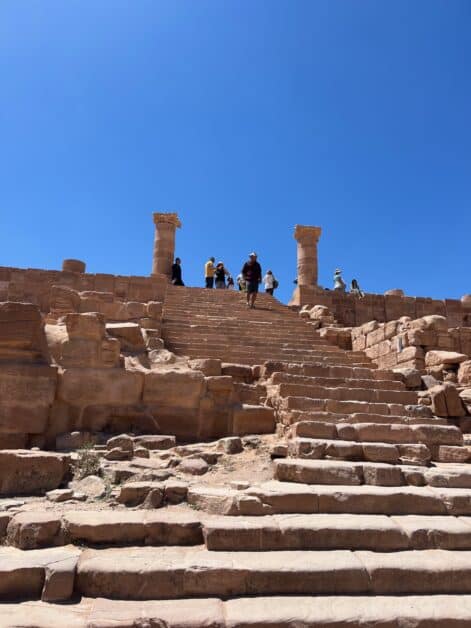 What could have made it better? Finding out why the hell they built these beautiful facades that are still here long after they're gone! On the podcast, travel guru Joseph Rosendo joined me a few years ago and said that visiting an area is all about the people. If you truly were going to experience a region, it isn't the beautiful buildings, though the Treasury may transcend this advice. But we were only a few days into the tour and I was already hoping to talk to more people from the area. I met lots of salespeople pushing their wares on me. I didn't want to be sold to…unless it was them selling me on how their lifestyle worked and asking me if I wanted to have a conversation about it. Then I would have emptied my wallet even more.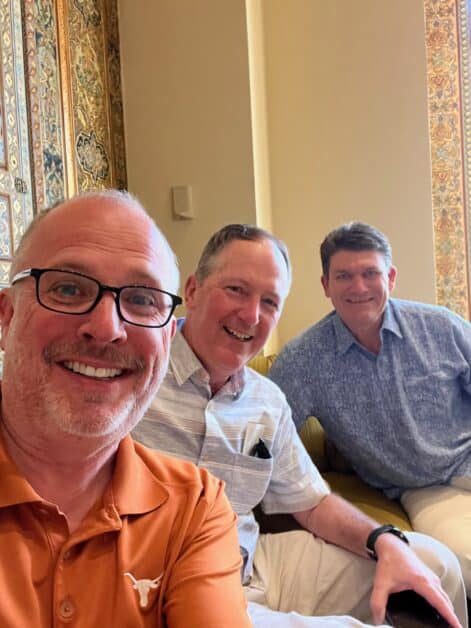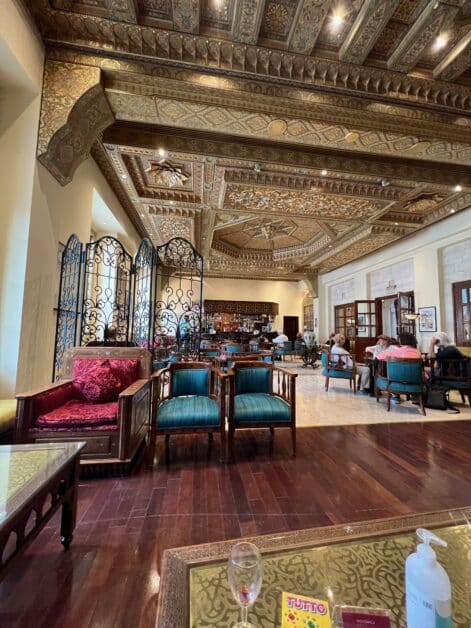 That evening we had a banal and overpriced dinner at one of two of the hotel lobby restaurants. Luckily, we weren't paying…it was on the tour company. But I was fine with "eating in." We were on the bus early the next day to head to another key part of the area's history, and a place I'd loved in films. Lawrence of Arabia had for a long time been my favorite film (until I saw Midnight in Paris). This is the place where Lawrence reigned supreme: Wadi Rum. Tomorrow we were headed there, and then on to Aqaba to leave for…. Egypt (as long as our COVID test came out negative). Did it? There's only one way to find out. Read the next installment!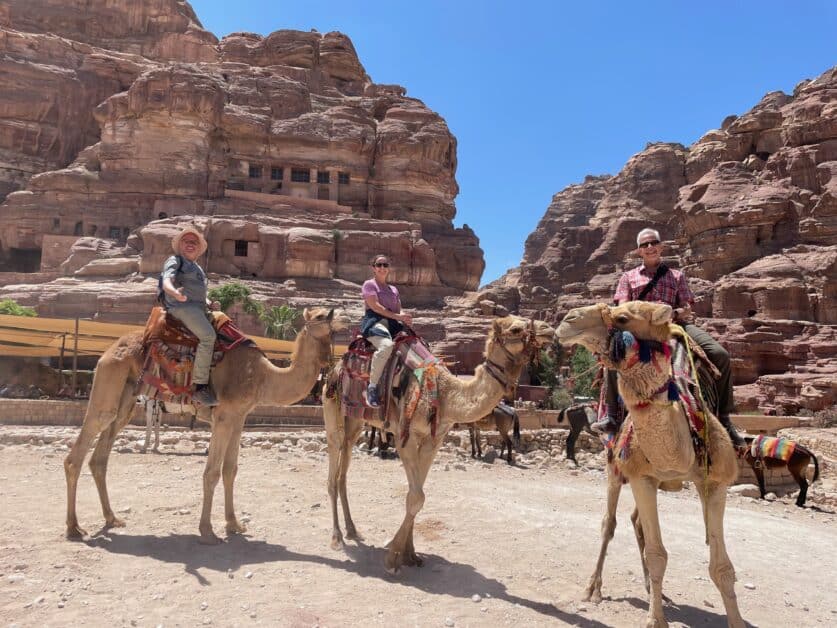 ✕
Join 9K+ Stackers improving their money savvy.