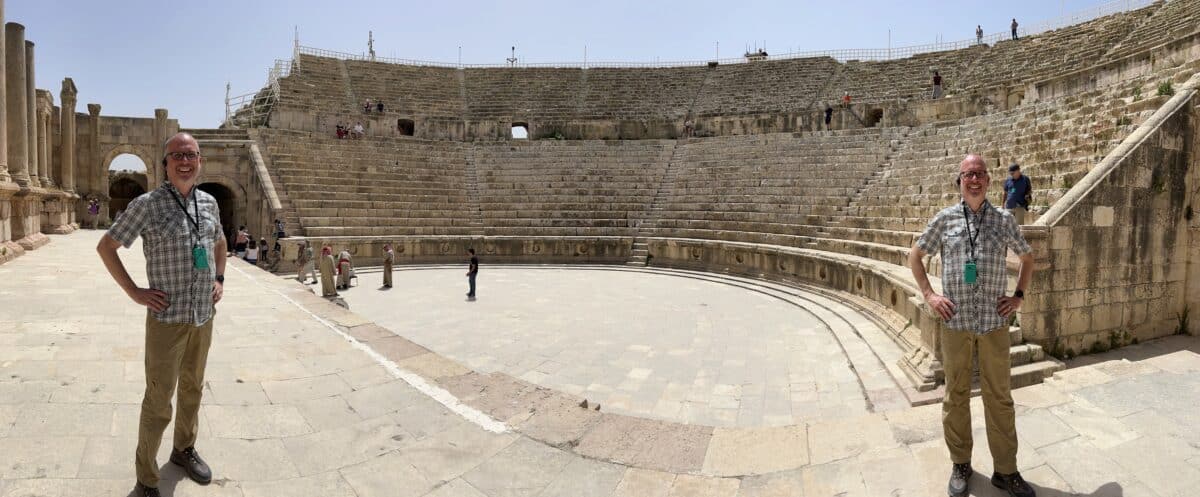 Hey, you're back! Welcome to our Jordan and Egypt trip review.
Pull up a chair here by the fire and let Uncle Joe and Auntie Cheryl tell you a story about their trip to Jordan, and then to Egypt. Mummies. Antiquity. Indiana Jones.
This is the part deux...you'll find part 1 here.
And our heroes are off to the Dead Sea!
In the morning of our fourth day it was finally time to roll into the guided tour portion of our adventure. Our niece Maddie decided to tag along (a decision that would prove far more problematic than we'd expected…oh, foreshadowing!).
Part of the magic of booking a top-tier tour group like Tauck when on a trip to Jordan or Egypt is that they take care of absolutely everything. We were superstars now who didn't lay a finger on anything. Lost luggage? Yeah, let them take care of it. We did zippo and it magically appeared. Transportation to the Dead Sea, roughly ninety minutes away, to meet our tour group and transfer to our new hotel? Check. A van arrived and we'll say this in as snobby a voice as we can muster, "our very helpful and talkative driver" loaded our luggage into the rear and we were off.
While not a tour guide by profession, this guy still pointed out beautiful landmarks along the route as we headed out of Amman into the rugged countryside.
Soon we were moving from the hills that define Amman to the much lower elevation of the Dead Sea area…the lowest point on earth!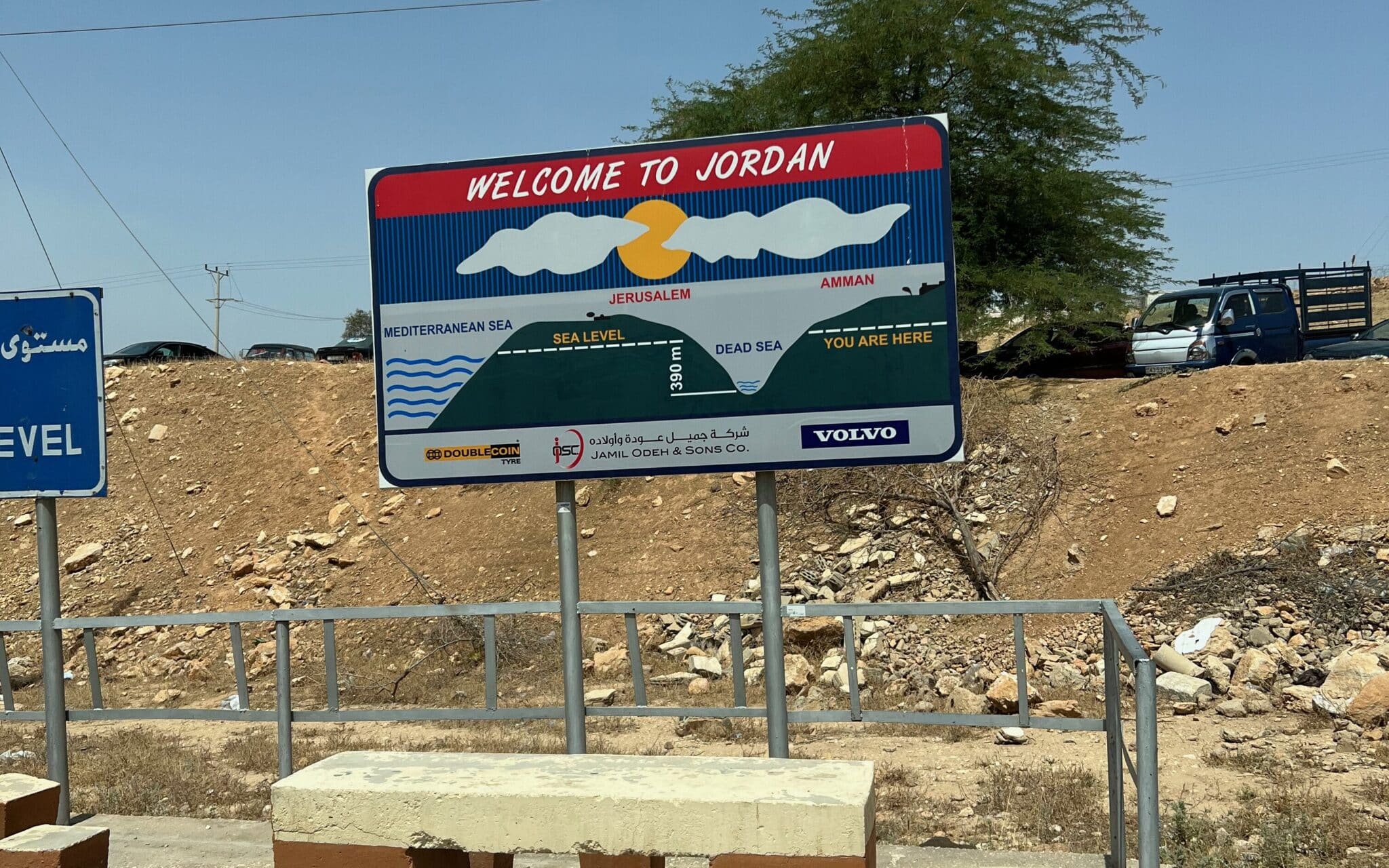 How low can the Dead Sea go? We'll tell you. It's a full 1,388 feet below sea level. We'd been to Death Valley, the lowest point in North America during COVID to celebrate a milestone birthday for Cheryl and thought that THAT was low at 282 feet below sea level. As if being the shortest in your class isn't bad enough, the Dead Sea must have groaned when the sea-doctor told him that he's also shrinking quickly, now just more than half the size he was way back in 1930.
On the way down the gigantic hill (mountain?) to the Dead Sea, we stopped at the sign showing us sea level for a quick photo and then continued down the steep hill. Below our hotel later we saw signs showing us where sea level had been in previous years. The sea seems to be sinking at a faster rate than previously. We passed what appeared to be a half-dead shopping mall, our first boy riding a camel, and finally came to the white walls of our resort.
Much more than it is for a boy in a cold pool, shrinkage of the Dead Sea is a big ecological concern. In the past fresh water from rivers and streams that surround it equaled the degree to which water evaporated. This evaporation process, combined with the salinity of the area, creates the unique floatable brine-y fun. It is also an area of important religious significance, the water is believed to have healing properties. It's an important environment for many fish, birds and other species. But due to rerouting of these water sources in recent decades along with soaring temperatures, evaporation is quickening and the water is receding. Many have proposed resolutions to this problem, but it appears the most viable is construction of a canal between the Red Sea and the Dead Sea–although at this time I believe this idea, too, has been abandoned.
A note on tipping: We tipped the driver close to thirty dollars, thinking that ten dollars each for the three of us was adequate for such a long drive. It turned out that he'd been not only paid by our Tauck tour group, but also tipped. Even if they hadn't, we found out that a thirty-dollar tip is grossly overtipping in that region. Later we offered a dollar or two wherever we went and this was still often considered a large sum. Lesson learned.
Dead Sea Hotel Review – Hotel Kempinski Ishtar Dead Sea
Wow. This place was no joke. We'd heard that the hotel was inspired by the Hanging Gardens of Babylon, but to see it for ourselves, we first had to get inside. Security was tight, as it had been at the Four Seasons back in Amman. We had to go through a metal detector just to enter the facility (this was common across our trip. It seemed like we were going through metal detectors everywhere. Another funny story: often the detector would go off for EVERYONE in our tour and we'd just continue through without a glance from "security." I'm not sure what they were looking for.)
Behind the long main lobby, floor-to-ceiling windows showed off the incredible view: a steep hill freckled with resort buildings and then the amazing Dead Sea in the background. We were finally there, and it was exciting. As much as we'd been thrilled with Amman, it was incredible to be face-to-face with this body of water that's been traversed by people from ancient times to now.
We mentioned to the front desk that our niece had accompanied us and that we were hoping for a room with two beds. You would have thought we were asking for the King of Jordan to come tuck us in personally. We were told that she must reserve a separate room, but none were available. So, she'd have to return to Amman. After telling them that she'd just hang out with us for the rest of the day before she returned, we were informed sternly that this, too, was impossible because she wasn't a guest. No non-guests are allowed on the premises. The only loophole (and the front desk KNEW we were using a loophole) was to book her for a spa treatment, making her a guest of the resort. So, treatment booked, we headed to our hotel room.
Aside about our elicit visitor: Once we were inside the resort, a total of zero people cared that she was with us. Nobody asked for her identification or harassed us about her being there. We should have just not told them in the first place…but we had this problem of no bed. We solved that by using a cushion from patio furniture and calling guest services for more blankets. Yes, it was 80 degrees, but apparently we were cold! It ended up feeling much more like a college sleepover than a five-star resort experience, but who cared? We got to party with our niece one more night.
Because of the steep hillside, every room featured a deck or patio which opened up to a fantastic view (well, I didn't check them all, but I can't imagine a view that stunk). What a wonderful place to begin our tour! Our friends finally arrived. One couple had experienced baggage issues similar to ours, but they felt slightly better after some food by the poolside lounge.
This property boasts five different swimming pools (technically, a sixth is inside the spa but that one is only accessible with a spa appointment). A couple pools were reserved as "adults only." At least three had an infinity edge so you could sit at the edge and stare out at the sea. One round pool featured a DJ and food. There were a few bars, at least two restaurants, and another huge breakfast buffet.
The Dead Sea Experience
We were informed at the front desk that our tour group wasn't meeting until the early evening hours, so now it was time to explore! We immediately used our unexpected freedom to cross something off of our bucket lists: jump in the Dead Sea! …well, maybe not jump. More like slowly walk out and float. But I'm getting ahead of myself. The trail down to the tiny resort beach was easy to trek, and I expected to then just wade in, but were told that there are traditions to follow. People spread black Dead Sea mud, which was conveniently already in barrels, all over their body to cleanse pores and refresh their skin. Okay…when in Rome! We mudded up. I felt slimy. But, I felt even slimier when I walked in to the water.
Nothing can prepare you for your first steps into the Sea. It's impossible to imagine just how salty the water is until you try to walk much past your navel. You can no longer stand upright…the water forces you horizontal, until you're floating. After fighting it for a few steps I let it take me and just floated around, slowly moving my muddy arms and legs to explore the swimming area.
Our friend Malcolm committed the ultimate mistake, deciding, like you would at the ocean, a pool, or nice lake, that he'd dive in. Salt in your eyes is beyond painful. I found out the same only minutes later when I decided to try and wipe some of the mud away from my eyes and accidentally touched one. I was out of the water as soon as I could paddle over to the shore, and like a half-drunk one-eyed pirate, lunged over to an area the hotel had set up with freshwater nozzles to clean yourself off.
Final review? It's an experience I will never forget and something that I never need to do again.
Meeting Our Tour Group
Later that evening we changed into our "going to meet people we don't yet know" outfits and headed to meet the Tauck tour group. We were greeted by our extremely friendly tour guide Debra, and the roughly twenty others who'd be our companions the rest of the way. Let's get this out of the way: most of these people were FAR older than we were. While I enjoyed being the youngest people at the table, being 54 years old AND the youngest meant that we were going to notch our speed down a few notches. (Cheryl's note: Joe I am younger than you!) We loved the group, though. They were fun, happy people, and we enjoyed their company without exception throughout the entire tour (I was worried we'd meet THAT ONE person who made the trip difficult, but luckily that wasn't the case).
ASIDE on traveling in a "friends group" while on a tour: I found out quickly that the fact that there were six of us who knew each other was both a blessing and a curse. Some of the tourists clearly stayed away from us, even referring to us as "the six", preferring to make friends with others who were also traveling alone or with a single companion. A tour is a great way to meet new people, and I think I'd recommend a tour more often to a single person or couple traveling alone than to a traveling group like ours.
Tauck Tour #1: Jerash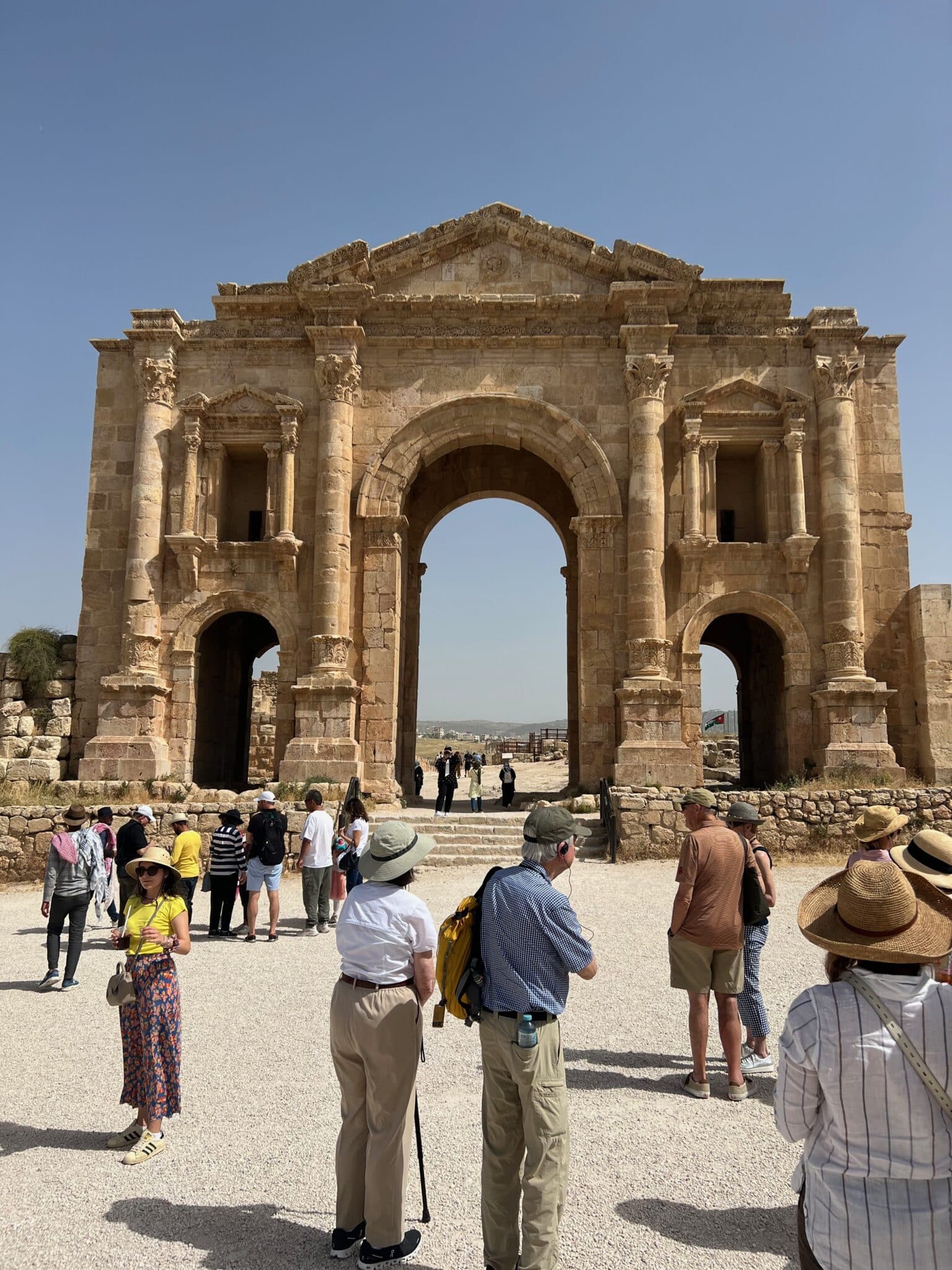 The next morning, we were off early to see some Roman ruins! Wikipedia will tell you that Jerash was a Greek city originally built by Alexander the Great, but it was 300 years later under the Romans that it truly began to thrive. Jerash was part of a major trading route from the east and Rome made it the local capital, making it one of the largest and most influential cities in the region. In fact, in a few days we'd head south to Petra (180 miles away), which was the center of trade for goods coming from points further west.
Tauck, as all of these types of tours, hired a luxury bus. We seriously rode everywhere in comfort. Tauck employed a great system of assigned seats to ensure that sometimes you'd sit near the front with the guide and other times in the back. You'd check the seating assignment before getting on the bus each day to see where you were. This also ensured that you met many others on the tour, which made traveling with all of these people even more comfortable.
On that first bus we also met our local guide. While Debra stayed with us for the entire tour, we had a regional expert in each area (three different guides in all for this particular trip). While all of our guides were excellent, our first, Suffrian (I'm absolutely, 100% certain that I'm butchering the spelling of his name…) was our favorite. He encouraged us to call him "Suffie." Suffie joked, danced, tried the hookah with us (more on that later) and felt like a good friend. But more than any of that, his storytelling was excellent. His voice would rise and fall as he spoke, and he'd raise his arms and widen his eyes during the good parts of the story. He had a gift.
Jerash is known as one of the most complete Roman ruins on earth. I think at this point I'll let the photos do the talking.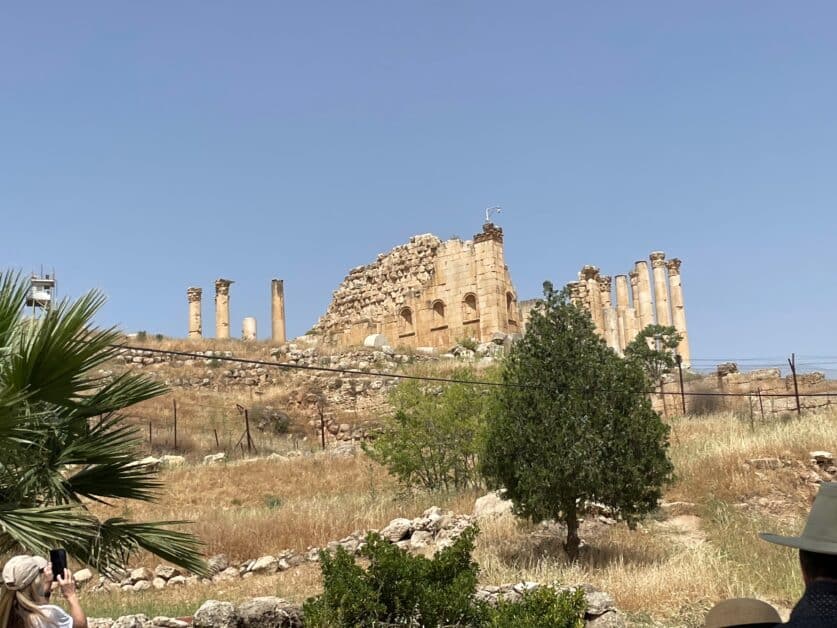 You enter this amazing ancient city thru Hadrian's gate. Immediately visible on the hilltop in the distance is a large Temple dedicated to Zeus. The ancient city had functioned for over 1,000 years as center of trade until it was destroyed by an earthquake. Walking down the well preserved Cardo Colonnade street you can almost feel the ghosts of vendors selling their wares or pressing olive oil, while horses trotted and others mingled.
Maybe the most preserved building is the theater. A bag piper played for us, while Suffie danced! He stood over a stone on the ground at center stage, where the Romans had engineers acoustics so good that Suffie could speak in a normal voice and we heard him throughout the entire theater without a microphone. Who needs speakers! We walked the length of the ancient city to a temple to Artemis, which for political reasons was never finished. Red poppies, pink bougainvillea and other various colorful flowers lined the streets. We sought shade from the sun and heat under a pepper tree and tried fresh pepper seeds. On the way out we also enjoyed freshly squeezed pomegranate juice–delicious!!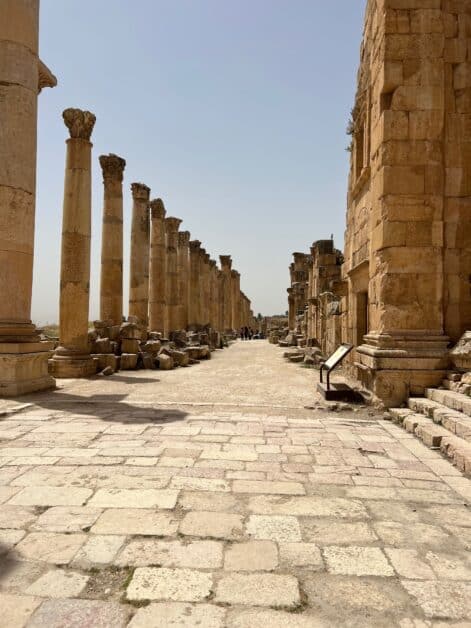 Aside – how we communicated: If you've taken similar tours, skip this section, but if not, you'll find this helpful (I certainly did when I went on our first planned tour). Debra passed out listening devices to each of us that comfortably wrapped around our ears. When Debra or Suffie had anything to share, we could hear it like they were standing right next to us. That allowed Cheryl and I to linger in areas we found interesting while the group walked ahead, or we were free to move on if we'd had enough of whatever sight they were explaining. This device (all of the tours have them) is a huge upside to going on a planned tour.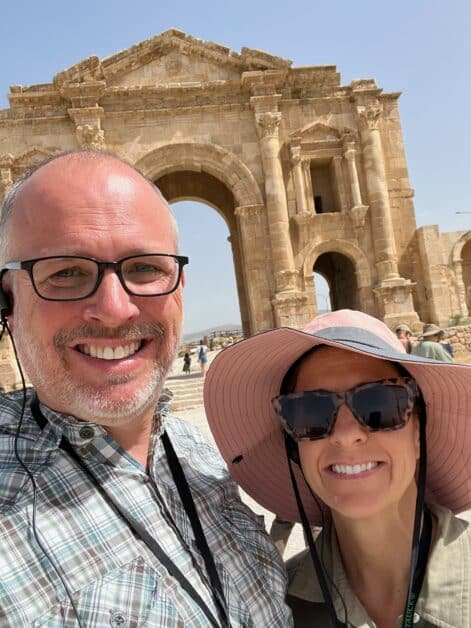 I was struck by just how much the shifting landscape has hidden much of this city. Suffie explained to us that only a couple of years earlier researchers had unearthed even more surprises. It was likely that the hills we crossed to get to the temple of Artemis at the far end of town were covering treasures we could only imagine. As a child I'd always thought that humanity had already uncovered most of the old buildings, statues, and secrets.
It turns out that there is much we don't know literally right under our feet.
While at the outdoor amphitheater, a beautiful, ancient place which is still used today for events, I was approached by a nice man from the area. He offered to show me some cool things with my phone. After I told him no twice, which he ignored, still telling me that he could give me some great shots which I'd love for a long time, I finally agreed. That produced these photos.
He handed me back my phone and then told me that he was a poor man and could use some money. When I gave him two dollars he protested, telling me they were clearly worth twenty-five dinar. He wasn't happy when I honestly told him that I had no more money. This was a refrain a LOT wherever we toured. People would do things "for free" and then demand money…and then protest whatever amount you gave them. That said, I do love the shots and I'm glad he took them for me. Were they worth twenty-five dinar? You be the judge.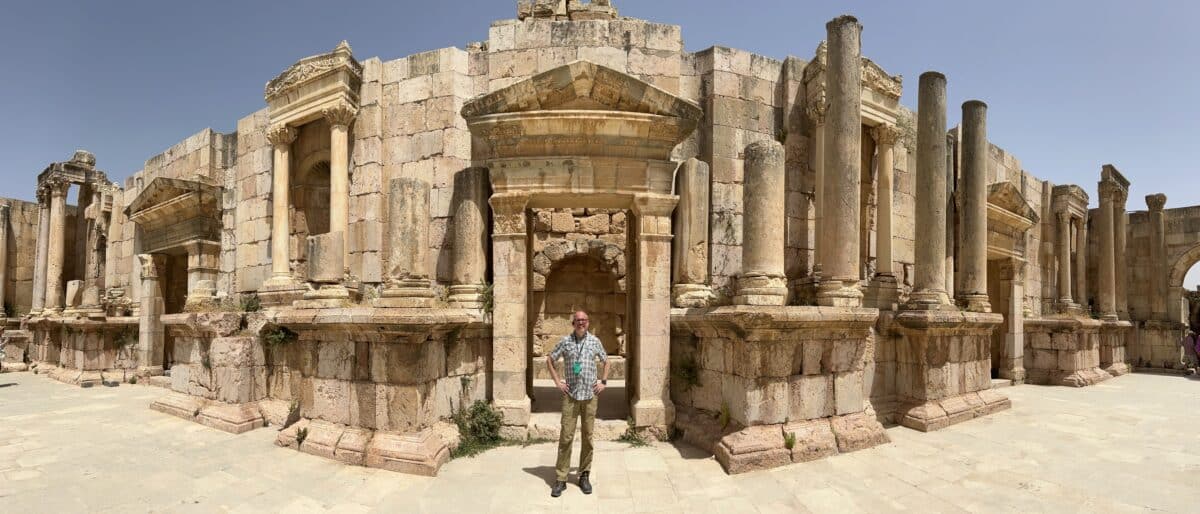 On the way back to our amazing Dead Sea hotel we stopped off for a meal at a restaurant called Khayl and Layl, which featured decent food, but amazing views which felt like we'd been transported to Tuscany. I realized that day I could seriously eat Mediterranean food every meal and be perfectly happy. I also had a Coke, which I normally don't do at home, and much like Mexican Coca-Cola on a hot day, it went down quickly. The temperature had crept into the low 90s, but there was a nice breeze.
Back at the hotel Tauck featured first a lecture from a young Jordanian woman who dove deeper into the culture, political climate, and modern problems, like water. Then later, we enjoyed a poolside Italian dinner paid for by Tauck. The service took forever, but we didn't care. We had wine, new and old friends, and some fairly awful Italian food. It was a fantastic way to finish our first day with the group.
Aside: Side trips. On our Tauck tour you could take side trips on your own during the downtime or you could just enjoy the gorgeous hotels they put us up in. We had a fair amount of downtime throughout the trip and took advantage of this time twice to explore further cities or areas that we were interested in. On this particular day we both jumped in the pool, but our friends worked with Debra to hire a taxi to take them to the place where John the Baptist had baptized Jesus. They commented that it was strange seeing people in Israel across the river from them, while they were standing in Jordan.
Tauck Tour #2: Jabal Nibu or Mount Nebo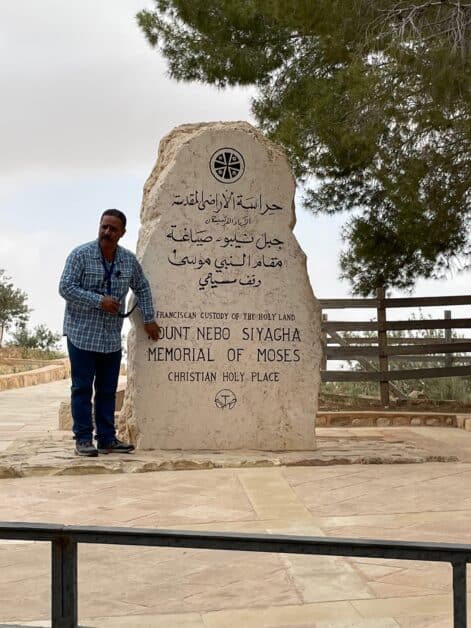 The next day we packed up our room. If you've never been on a tour, this is also a treat I'll share: you never touch your luggage. Our bags were required to be outside our door at a pre-arranged time and we went about our business, not to see them again until that evening, where they'd magically reappear in our next hotel room.
Our first destination this day was Mt. Nebo. This was where Moses first saw the promised land. Later, we'd enjoy a bus tour of Amman and then a beautiful ride toward our next stop, Petra! I was excited to finally reach this place I'd heard so much about, and had seen in the famous Indiana Jones film.
About Mt. Nebo
Mt. Nebo is one of the biggest Christian pilgrimage destinations in Jordan but is also important to other religions as well. To Jews and Christians, this is the spot where they believe Moses, after leading the Israelites around the desert for forty years, finally spotted the Holy Land (I agree with comedian Jim Gaffigan…after a few years wouldn't someone have said, "This Moses doesn't know where he's goin'!"?). While this led his flock to a new holy land, their leader Moses didn't make it. According to the Bible he died on Mt. Nebo.
On the drive thru Moab up to the Mt. Nebo hilltop, we passed a few Bedouin camps. These nomadic people still today live on the land, moving from place to place. To an outsider, it felt like the Arab version of van life (but in reality is far, far more). We were going to spend time being hosted by Bedouins the following evening, so it was a nice preview.
We also passed camels walking down the road. Camels!
Outside the entry to Mt Nebo is a fascinating monument created by the Italian artist Bianchi in 2000. It is called People of the Book Monument. One side looks like a giant book standing upright and the other side is a collage of people and inscriptions, reminding us that we are all of one God: Jews, Christians and Muslims. The monument was dedicated to Pope John Paul II after his visit to Jabal Nibu.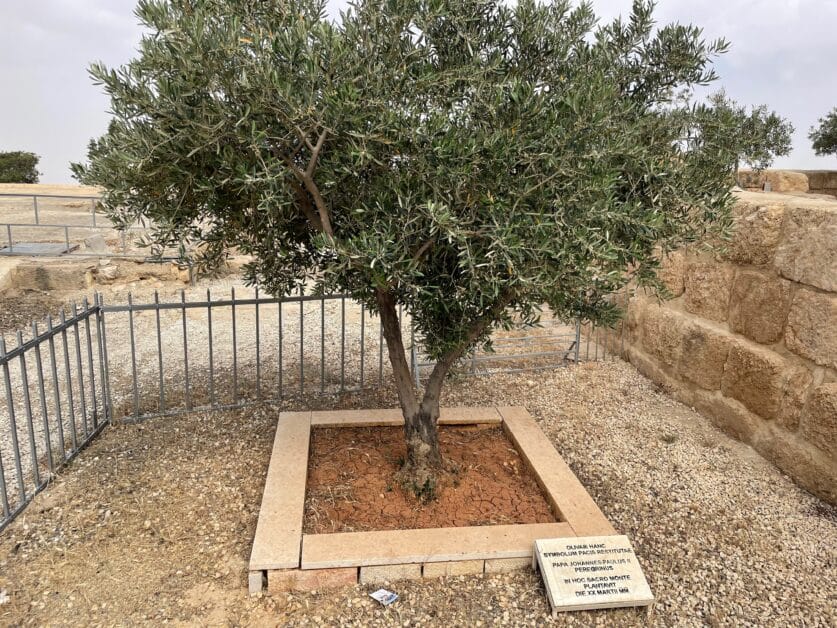 Coming around the basilica you get an amazing view. It was maybe the most beautiful cross I've ever seen, dwarfing the people standing under it for photos. The cross is encircled by a large bronze snake, representing the serpent lifted by Moses and Jesus on the Cross. We purchased a replica with the word "peace" engraved on it for Joe's mom. The view from the platform surrounding the church is amazing, giving us a panoramic view of the 'Promised Land," the Dead Sea, with Jerusalem and Bethlehem in the distance.
The basilica itself was like nothing we'd ever seen. On the far end was a fairly modern looking altar and worship area, but between the front doors and the altar were walkways over protected mosaics, dating all the way back to the 6th and 7th centuries!
The first church is considered to have been built during the second half of the 5th century. A monastery developed later and ruins of the monks' dwellings surround the church. During the 6th century, the exquisite mosaic floors and a new chapel with baptismal were added. A final addition was built in the 7th century, when the chapel was added. The mosaics show what life was like at the time, featuring pastoral scenes that include local animals like camels but also exotic animals like zebras and ostriches. A beautiful stained-glass window shines above the main entry. Amazingly, the basilica is still in use today.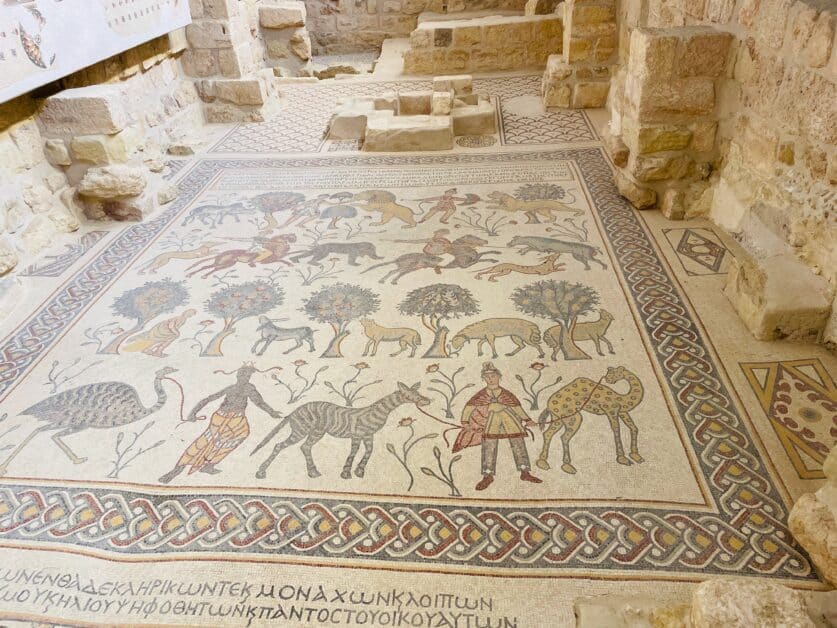 Sadly, while at Mt. Nebo, one of the oldest members of our tour group fell. She then missed much of the next couple days' adventures, and after that was often confined to a wheelchair. It was a sad reminder that we don't have forever to see the world. Although she wasn't able to move as well as previously, she was able to finish the trip.
Back on the bus we realized…we were on the road now toward Petra! In our next installment we'll share our thoughts about this revered landmark, Wadi Rum, among other adventures and sights.
✕
Join 9K+ Stackers improving their money savvy.