Last night I rushed home from the New Orleans Marathon to watch the final half of the Academy Awards. I'm glad I did. While I'd suspected The Revenant would win, Spotlight instead surprised us all by grabbing the big prize. While not my pick—you'll see mine below—I love it.
In 2015, I saw 39 movies, which is a BIG cut from 2014's monster 63. Why the drop? First, the podcast doesn't emphasize films as much as it has in the past, but the second reason is probably bigger. I watched a TON of television series episodes last year…FAR more than in past years. Maybe someday I'll start a list on that topic as well.
While I watched fewer films in 2015 than I had in previous years I DID still see every one of the finalists for best picture and most of those which were widely distributed and highly regarded.
Here's my list (including hot links to the Amazon page to watch them AND support Stacking Benjamins all in one place!):
9 Incredible Movies
The top of this list is MUCH better than the top of my list last year. I can highly recommend these picks: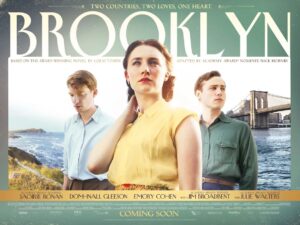 6 Very good films
Carol
– I love it when a film takes a period (in this case the 1950s) and people who are out of place (Cate Blanchett and Rooney Mara), and a tiny story (they're running away together) and delivers.  It can be slow at times, but the characters keep you coming back for more.
Creed
– What a great way to revive an idea that everyone thought was dead. Rocky had become so cliche that I avoided this film until I couldn't any longer (I'd seen everything worthwhile at our local multiplex). I'm glad I went and can't wait to see them now develop a new series.
Star Wars: The Force Awakens
Just missing my top 10, but a film I'm sure I'll see a hundred times because of what it represents. J.J.Abrams revives this series in a way I think most directors would have struggled with. I can't wait to see what's next for Star Wars, and I'm sure Disney is happy to know there are plenty of others who feel the same way.
Mission: Impossible – Rogue Nation
Here's another one that might surprise people. What is this film doing so far north on this list? I've loved the last two Mission Impossible movies. Great action, compelling plot, difficult missions.
The Intern
I'm a sucker for Nancy Myers movies (I loved It's Complicated). Beautiful people in beautiful places having first world problems. Some saw a formulaic yawner. I saw a fun film with a nice message. This is the perfect Netflix night movie.
The Night Before
I went into this film expecting the worst. Seth Rogan in a Christmas movie about lots of drugs and trying to find a party? Ugh… This was the funniest movie I saw in 2015. Don't see it, though, if you're allergic to seeing lots and lots of drugs. There are TONS of high moments in this film.
12 Simply Good Movies That I Enjoyed and Am Glad I Saw
Bridge of Spies – I was disappointed that this film was nominated for an Oscar over Straight Outta Compton. Tom Hanks plays the same super-duper guy you expect. He has a stereotypical home life. The best part of the film? Mark Ryland, the winner of the Best Supporting Actor at the Oscars. He was also my pick. Loved him.
Spy – Hilarious film. After Melissa McCarthy's Tammy last year, I was worried she'd gone off the deep end. Luckily for us, she hadn't. Part of this, I think, comes down to writing. Paul Feig is a fantastic scribe, and whenever he's involved in a movie, I'm in (although his television show about outer space is weird and pretty stupid).
Dope – What happens when a kid with good grades and geeky friends gets caught up in gangland violence? Lots, apparently. This film was a darling of the indie film festivals. Fast paced, fun, and weird…I enjoyed the ride.
The Trip to Italy (Netflix) – After watching The Trip a couple of years ago, this was luckily more of the same. Two comedians travel across Italy and enjoy great food, fantastic sights and have adventures. As with The Trip, nearly nothing happens, but you don't care.
McFarland USA – I was a high school cross country runner. This is a formulaic Disney flick. I LOVED IT. Okay…back away from me with the pitchforks.
The Babadook (Netflix) – We saved this one for Halloween because it was supposedly a scary movie. It was just a plain good film, and not nearly as scary as I'd thought at first. This family has real problems, and you spend your time wondering whether they're in their heads or reality.
Inside Out – I don't share the Oscar's love for this film. While it was good and deserves this #19 pick, I thought it started off depressing and then got more depressing. It was hard for me to like, and it's a testament to the writers and voice actors that it pulled through.
Monkey Kingdom – Disney nailed the animal movie again. I loved the story of a young monkey mother trying to get respect with her "family" and to feed her child. Not as good as last year's Bears, but a good entry.
Ant Man – WAY better than I'd expected. How can you hate Paul Rudd? I thought this was fun, fast and the same Marvel "good but not great" that I always hope for when I walk into the theater.
Haute Cuisine – (Netflix) A foreign language film that tells the story of Francis Miterand's personal chef. If you liked Chef and love food porn shows as much as I, you'll like this film also.
Black Mass – I can acknowledge the problems with this film, but when I first walked out of the theater, I was sure I'd just seen something special. On second look, I think Johnny Depp was kind of weird in the movie and the story struggled.
Cinderella – Another film I was dragged to see that was far better than I'd expected. I loved Lily James from Downton Abbey as Cinderella. I bought it.
9 Meh Flicks (or worse)
Avengers: Age of Ultron – Too many characters, too many plotlines. Swing and a miss.
Jurassic World – I was on the edge of my seat the whole movie (that's good), but nothing happened that wasn't paint by numbers.
Steve Jobs – I didn't believe the story at all and never felt any "mood." While there were a few great scenes, it never jelled. There was no "wow."
Life Itself (Netflix) – The story of Roger Ebert's life. It was a compelling story but could have been told in about half the time.
Misery Loves Comedy – I like following comedians. This was an okay documentary about the inner struggle of a comic.
The Revenant – I HATED it. If the cinematography wasn't so damned great and Tom Hardy so compelling, this would be at the bottom of my list.
Spectre – Too much talking. Trying to tie too much together. It's so sad that this followed the fantastic Skyfall.
The Duff – I came into this WAY "meh" and actually left thinking it was a better film than I'd expected. Not my kind of movie (teenage girl fare), but not horrible.
Sisters – Tina Fey and Amy Pohler together in a comedy with a bunch of SNL vets? Sign me up. Not so fast…it's juvenile (even more than I'd expected), potty humor at its near-worst. If you want to see funny movies, go watch Spy or The Night Before.
I Had Big Problems with these 3 Films
Tomorrowland – I really wanted to love this film. I think it was advertised incorrectly. Plus, it was WAY more political than I'd expected. It came close but never really did what I was hoping for.
A Walk in the Woods – Holy crap was this movie boring.
Vacation 2015 – Congratulations to the worst film I saw in 2015. I laughed twice during this movie. I need the other 88 minutes back, please.
Want to compare with previous years?
SaveSave
✕
Join 9K+ Stackers improving their money savvy.