Want to save $5,000?
Or maybe, you have $5,000 in debt you need to pay off.
Well, friend, if this is you, I have a solution.
Color it in!
Why Visualization Works
The first time I had to raise money was in elementary school. I can't say why we were raising money, because I'm not a savant who remembers that kind of stuff.
I DO remember how we visualized how much we were raising.
It was a thermometer, with tick marks on the side, and the teacher colored it in every time someone brought in a donation slip.
So, we watched the thermometer fill (the temperature rising, if you will) every time new money arrived. That little spark made us try to sell wrapping paper or whatever at a faster pace.
Here's the thing: If I can remember the visualization that well all these years later, there's something to this visualization thing.
Then I read this story about a woman who paid off $26,000 in debt simply by coloring in a doodle. (Actually, that last sentence makes it sound like someone paid her $26,000 to watch her color, which is both creepy and a job I would happily accept.) She'd used a visualization tool just like we had in elementary school. It was something she could do every time she paid off $100.
The author was celebrating small victories AND visualizing her progress.
Awesome!
So, because I was inspired, and because I can't doodle, I made my own coloring sheet. It's not $26,000. It's $5,000. And it's not just for debt. It's for savings, too.
Paying off Debt is a Long Struggle
I used to be an expert on having credit card debt. In fact, if an expert is someone who spends 10,000 hours doing something, then I was definitely an expert on paying off credit card debt. It was a slog…a long, boring, slog through far too much debt. (Sidenote: tis better to stay out of debt than get out of debt.)
I would have loved to visualize my payoff like this!
When I was paying off mine, I'd used visualization, but a different strategy: charts. They were awesome. My goal was to make sure the slope of the line stayed positive (and you thought you'd never use prealgebra again!) so you're heading toward something, not away from something.
What if You're Out of Debt?
Oh, you don't have any consumer debt? Congratulations, friend! Tell us how you did it, and we'll feature your story on the blog. Because being out of debt is awesome.
However, it's only step one on your path toward success.
Next, you must save.
Seriously. Save more money. More than ten percent. In fact, save until the saving hurts you.
Okay, maybe you don't have to go that far. Maybe you can start with saving $5K. Wouldn't that be neat? Then, instead of having stacks of cash in your mattress (where the zombies will find it anyway, that's the first place they look), you can look through your coloring book to see just how much money you saved.
MAKE IT RAIN! And make it rain pretty. Have something to look at (other than numbers on your computer screen) that will inspire you to keep saving.
How to Get Your Own Coloring Sheet
The cool thing about this PDF is that you can print multiple copies.
Best of all, the download is yours, free, for the taking.
After all, what are friends for?
Click the image below (or if you'd rather, click here to wind up at the same place!) to claim your own coloring sheet, and make it rain.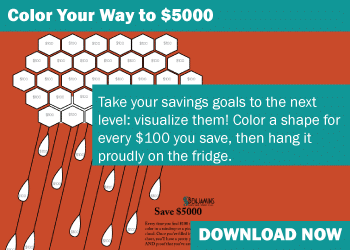 ✕
Join 9K+ Stackers improving their money savvy.