I'm taking part in a year long investing contest created by blogger Jeff Rose at Good Financial Cents. Here's this month's portfolio update and any lessons we can glean from what's really a 12 month crapshoot…..
Yeah….about those huge returns…..
This month we saw what I've been predicting since we began this twelve month contest in January. I'd either win big or lose big….and I could switch from one to the other in a heartbeat.
A brief synopsis of how we got here: I built a portfolio with my $1,000 comprised of a high risk emerging markets ETF, a mining stock and an international alcohol stock. Last month I was up over 10%. This month? I've fallen to earth.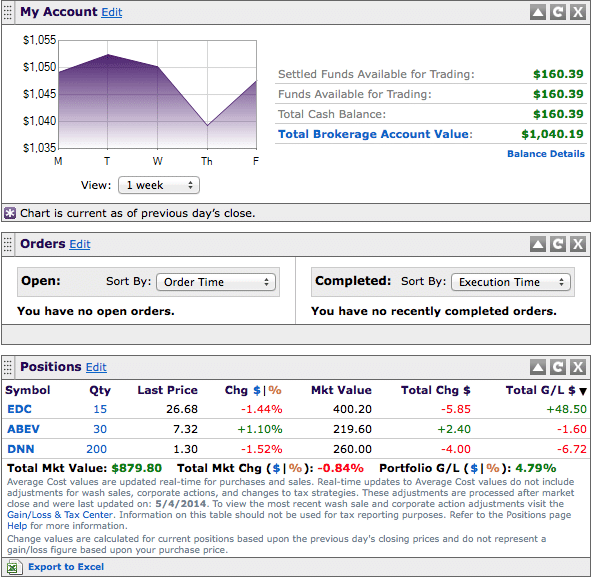 The Nature of Volatility
My portfolio was designed to be a roller coaster ride. Why? It's simple: I have only twelve short months to "invest" in assets that are designed for longer term results. You shouldn't invest in stocks with a twelve month timeframe. Historically your returns look much more like a casino than an "investment."
So, knowing this, I decided the only way to "win" the contest was to pump up the volatility.
Why I Like Where I Am Now
The consensus on the financial markets seems to be that there's no good news ahead. The Federal Reserve seems intent on continuing to ease the pedal slowly off of low interest rates. Cheap money will go away and then we'll have to see what the economy can do without it. If there's short term negativity, I'm sitting in a good spot with international and mining concerns.
Why I Hate Where I Am Now
If the markets continue to do well in the USA, I'm in asset classes designed to differentiate my portfolio from everyone else….and it'll be hard for me to "win" the contest. Already, I've fallen from second place back into the pack.
Also, at some point, I may have to move to a more conventional portfolio. I especially dislike me emerging markets position, EDC (which is interesting, because when I was a financial advisor, that was the position my clients would love….why? Because it was up.) Here's why I'm concerned: this position is a bet that emerging markets will have more good days than bad, because it resets daily. This is not a position for long term "hold" investors….it's great for stock pickers.
In hindsight, I should have picked something more traditional with my emerging market position….but live and learn.
What I Expect Next Month
I did nothing this month and expect to do that next month as well. I have a few dollars left, so if I really get behind I might "bet" on a penny stock to see if I can spike returns a little…..but I'm not there….yet.
✕
Join 9K+ Stackers improving their money savvy.