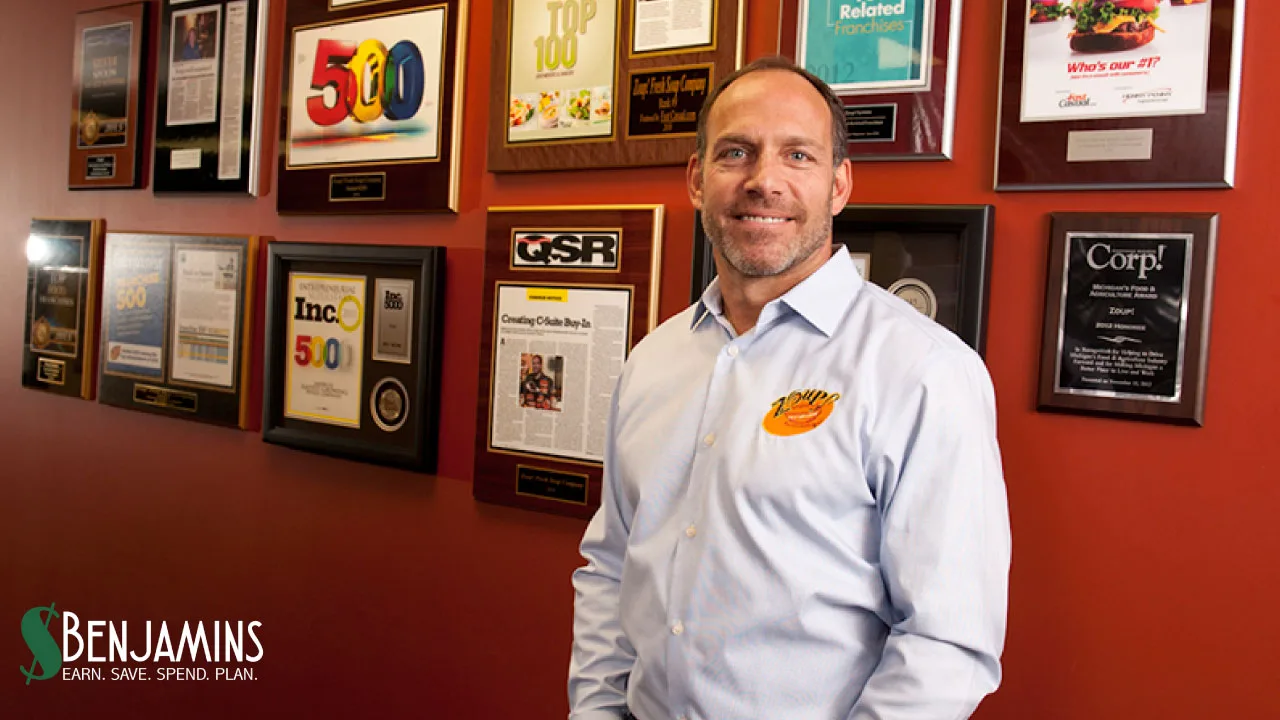 In the mood for some soup? Zoup! CEO Eric Ersher comes down to the basement to talk franchising.
Joe: Welcome to the basement Eric.
Eric: It's a pleasure to be here Joe.
Joe: Let's get right into franchising. As a franchiser, you know the good from the bad in terms of franchisees. What are you looking for? What is your target franchisee?  
Eric: That is something that we have to determine every time we're talking to a candidate. They have to qualify and want to be part of the Zoup! family. At the same time, we have to determine if they are going to be a long-term fit.
What we look for is a passion for the brand. If they are looking for just another franchise, just another way to make money, or just another business they are not going to make it through the process. Food Service, in general, is hard. It is not the kind of thing that you can sleepwalk through. Without having that fire in your belly, without having that passion for the brand as what we do every single day, whether it's Zoup! or any other franchise, we think that passion is critical.
Another thing we look for is whether they have experience in managing people and how they would appear how they would manage people. We want to find owner operators who care for the people they hire, who want to create a healthy and nurturing culture. I think that is something that is important across many franchises.
Joe: Sam Walton talks, in his book, that when he had the Ben Franklin franchise store that he wanted to have special events like having a band outside or community events. The franchiser wouldn't let him. Does Zoup! let the franchisee "think outside the box" or does it adhere to a strict model?
Eric: We try to strike a balance. Sam Walton left that franchise because he was truly an entrepreneur. What he has created undoubtedly speaks for itself. We look for entrepreneurs. It is folk that want to own a business..and have some security, be in business for themselves but not by themselves, that want infrastructure that they would not otherwise have.
However, we take our role as franchiser very seriously. We take our role as the steward of the brand very seriously. While we may think there may be communities that are market or store particular it is very important that we present ourselves to the public as a common brand, that we offer consistency. There is a trade-off in franchising.
That being there are some benefits to being a franchisee of an established brand, but you can't do everything you want because it is not your brand. The franchiser does have an obligation to maintain the integrity of the brand. It is the number 1 valuable shared asset across the system. It is our job to make sure it is not diluted by renegades who are doing things that might very well be good for them and their business and their family. We love and respect that, but because you are part of a bigger brand, sometimes you can't do everything you want to.
Joe: The key thing for a franchisee is that I don't have to write the playbook. I get the playbook and follow the playbook, being the key to success. There is a lot of power in that. What type of training is there for the franchiser to give the franchisee to make sure they are set up for success?
Eric: I think that the training required is brand specific. I can only speak to ours. We offer 2.5 weeks of training. It used to be three weeks. We shortened it a bit. We do it around the business office, our training centers, and our company stores. An area we have improved that I know we were not great at before is the owner-manager kind of skills that are required. We always have been excellent at teaching folks on how to run the store; now we are better on teaching folks on how to run the store.
Things like leadership, some of the other skills like the financial management, dealing with some of these other location specific vendors, those are areas that we have improved in. I am excited about that.
As a franchiser, being in a business where we celebrate helping others become self-employed we feel passionate about it. Finding opportunities to help people fulfill their God-given potential to extend potential beyond that which they thought they would ever achieve. To help them become a better leader, a better communicator, a better coach that is the kind of stuff that turns us on.
Joe: I have heard horror stories where the franchiser gives the franchisee the playbook and do the 2.5 weeks of training, but then there is no ongoing training. What type of ongoing hand holding does Zoup! Give its franchisees?
Eric: We have folks that travel around and provide additional support. We have a third party company that does mystery shops every 2 weeks. That is not an audit from us. This is an opportunity for the owner or manager to get a customers one single experience, then talk to their staff, and ask 3 questions. What went right? What went wrong? What can we do better next time? We are always training. A management tool we provide.
We have someone that travels around. They hit each store at least 2 times a year.
We have a third party company that comes around and coaches our franchisees to make sure their food safety practices are beyond standard.
We do annual franchise meetings and regional franchise meetings. We have weekly communications. Everyone on the operations team have provided cell phone numbers. Then there are infrastructure pieces where we receive scorecards and reports. Also other webinars and videos.
We really try to keep as close as we can to the franchisees. One of the things we encourage them to do is reach out to us. Reach out early and often. We are here to be a service. That is our gig. Our customers are our franchisees. Our job is to help them to be successful.
...makes you want to buy some Zoup! soup, doesn't it? Check out the interview to hear about Zoup's rattlesnake soup. They also discuss the finances to obtaining a Zoup! franchise of your very own.
✕
Join 9K+ Stackers improving their money savvy.