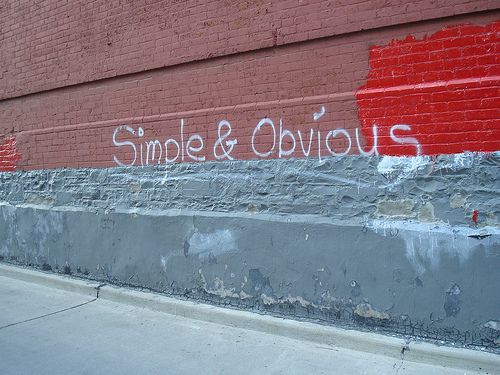 Build the emergency fund.
Completely obvious.
For those of you who don't listen to our podcast (God help your poor soul), you may not know about the awesome argument we had about emergency funds a few weeks ago. Two of our panelists argued that you should ALWAYS pay down your high interest debt before building your emergency fund.
I was dismayed.
While it always seems like a great idea to pay down high interest rate debt, our goal is to eliminate it forever.
Let's go over that again. I don't want the debt to ever, ever, ever, ever (enough evers?) come back.
Mathematics Don't Always Win
Sure, from a cold, logical point of view, I totally agree with those who would pay down the debt. In theory, here's the argument: pay down your debt until something bad happens and then put that expense back on the credit card. That way, you're not paying some credit card company a ton of money.
I agree with all of that.
Except that it doesn't work.
The Benefit of Working With OPM (Other People's Money)
Over my career, I feel lucky to have helped hundreds of people polish off their debt. Everybody knew the math above, and people would often balk when I'd suggest we establish a beachhead in their savings account before putting extra money toward the debt.
…but when they did it "my way," we frequently won.
When we did it "the right way" by putting every dollar toward the debt, we struggled with it over and over and over.
Why?
Three Reasons Why You Build The Emergency Fund First:
1)      Something ALWAYS goes wrong. When you don't have an emergency fund, realize that your "hope" that something won't go wrong is a pipe dream. Do you know how many times a month unexpected bills arrive? I've had two today ($55 and $25).
2)      Your "whip out the card" reflex as much the problem as the debt. You have to train yourself NOW to stop using the credit card. That isn't your money. It's someone else's money. By paying every dollar toward the debt you're telling yourself that it's okay to go into debt again…."but only for emergencies."
3)      Then come the horror stories. Sure, these are the contingencies that only financial planners think about, but like an engineer, I believe you should only begin building AFTER you've eliminated or minimized all the things that could go wrong.
How do you go to your credit card if you've lost your job? What if you've become disabled? In those cases, you're screwed.
Paying down your high interest debt IS important, which is why you only want to do it once. So, instead of paying down the credit card first with every dollar from your wallet, let's do it a better way:
 Joe's Debt Paydown Solution:
1)      Find ways to free up additional dollars to save through your weekly family meeting.
2)      Automate your savings into a savings account that's difficult to touch and doesn't have ATM or online access.  If you are searching for a bank that does not use Chexsystems, click here.
3)      Build that reserve to $1,000.
4)      Attack your debt, starting with either tiny balances (to build cash flow quickly) or highest interest rate.
5)      Celebrate the fact that you have a plan that isn't full of holes.
Paying down debt is an important first step on the journey toward wealth. Later, you may choose to use debt as leverage to build your stack faster. By realizing the dangers of playing with OPM through this initial debt strategy, if you do take on tactical debt in the future, you might have a better idea what you're getting yourself into.
Photo: emmajanehw
✕
Join 9K+ Stackers improving their money savvy.