How has that phone in your pocket changed the course of finance? It turns out, a TON. Today we talk to Dan Simon, who chronicles the birth and growth of FinTech for us on today's show. We'll discuss the early iPhone and how it became the center of development. We'll then highlight some of the early players and how their interest wasn't so much around banking, trading, or even finance, as it was a way to solve a very specific problem they had. We'll also discuss the future of FinTech. Dan's opinion may surprise you.
We'll also shine a light today on the student loan crisis. Good news for borrowers: there was something in the latest government aid package for you. We'll detail many of the helpful provisions with the help of CFP Ryan Law and Certified Student Loan Counselor Andrew Pentis. Plus, if you're one of the over 6.6 million people who lost their job two weeks ago, we also have some help for you. We wish it was a new job…but instead it's just some financial tips.
That's not all! We'll of course throw out the Haven Life line in the funniest way possible AND save time for Doug's totally artistic trivia. Thanks for hanging out with us! If you're helping keep the economy moving during all this…special thanks to YOU!
Show Notes:
<3:50> Headlines
A big thanks to Andrew Pentis & Ryan Law for taking the time to talk with us today! You can find more from them below:
<19:50> Daniel P. Simon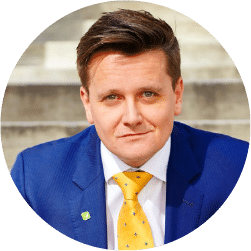 You can find more from Daniel at his site: DanielPSimon.com
<41:20> Doug's Trivia
What prolific inventor and painter was born on this date back in 1452?
<52:14> Haven Life Line
Nick is considering halting his Roth IRA contributions and increasing his 403B contributions given the recent hit in the stock market. He'd like to know if this is a legit strategy?
Want the guys to answer your question? You can call into the Haven Life Line and get your question answered on-air HERE.
Join us Friday!
Can you be environmental AND save money at the same time? We'll cover that, plus check out some cool new Fintech that'll save you time and make you more efficient.
✕
Join 9K+ Stackers improving their money savvy.