NEW STUFF!
Get Stacking Benjamins merchandise on pillows, mugs, posters and MORE! We'll be expanding our selection in the coming months, so make sure to check back!
Click here for more: Stacking Benjamins Merch
---
Flying Pork Apparel T-Shirts

Aviator Ben T-shirt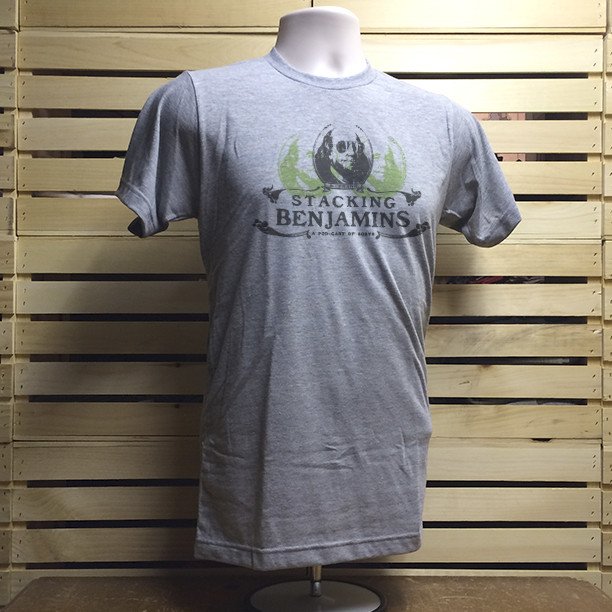 You must be a fan. The Stacking Benjamins podcast sure has a lot of them. This here garment will boldly let the world know of this fandom of yours. A full-blown logo printed on a very comfortable poly/cotton blended heather grey tee, so you can wear it everywhere. Ol' "B-Frank" would nod approvingly over his bifocals. Shirt thine-self, won't ye?
---
Texarkana T-shirt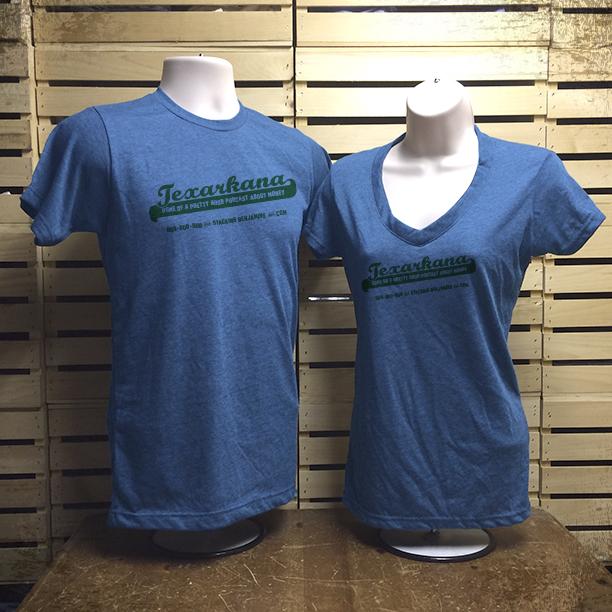 On the map. Texarkana is home to pretty good things, but the Stacking Benjamins money podcast happens to be our favorite 'pretty good' thing of the lot. If you agree, then reinforce this Texas city's blip on the map by donning a comfy poly/cotton garment emblazoned with this Texarkana design. Available in a heather royal blue and a v-neck version. Texas, not Arkansas.
---
Ben Vs. Bear T-shirt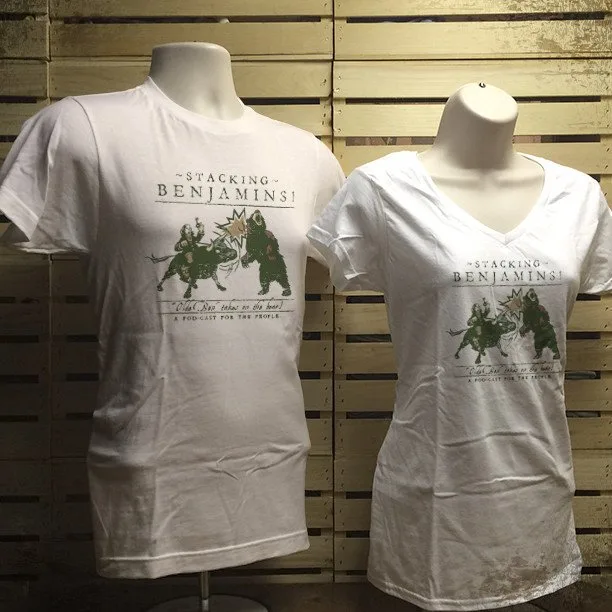 Down goes The Bear! This here design was inspired by political posters and cartoons from the days of colonial America, and is adorned on a 100% cotton tee for both gentleman and lady-folk. The unisex/mens' version is on an off-white color, and the ladies get a nice lily white. Be sure to check our size charts to maximize the chances of a good fit. Huzzah!!!
---
Circus Haven Life T-shirt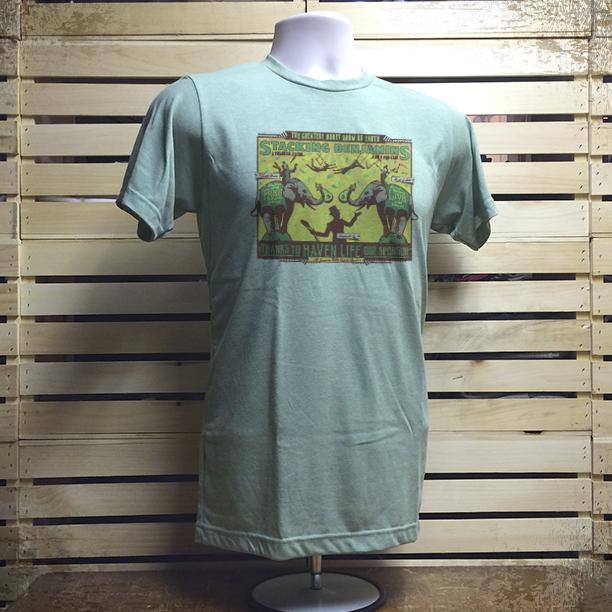 Step right up! Sometimes life is a circus, yeah? Well… let us tell you that the award-winning Stacking Benjamins financial podcast is quite the circus… all adeptly run by its ringmaster, Joe… and brought to you in part by Haven Life. After you listen to a couple-few Stacking Benjamins episodes and get our drift, you can then wear this poly/cotton blended tee around and about to let everyone know about these hard-working Texans. Printed on a cool heather green crewneck to remind you that we're talking about money advice, here. Debt-defying!
---
Intense Gazelle T-shirt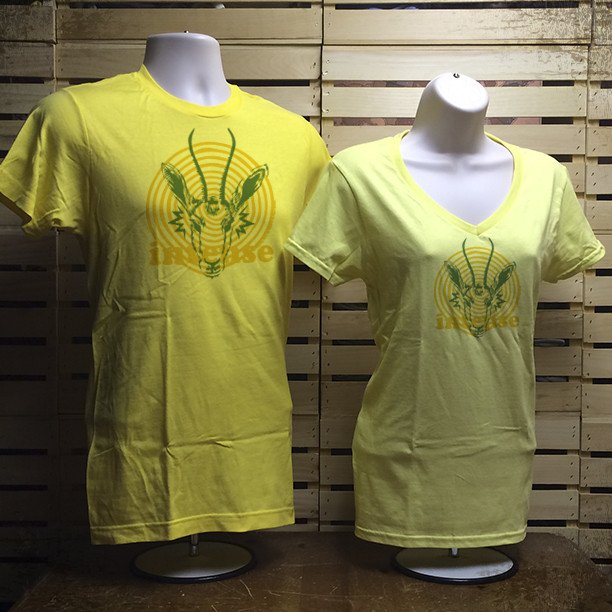 Gazelle intensity. It's a thing, apparently. Those Stacking Benjamins folks know what this is all about, but you can inform the world of your intensity with this here tee, printed on a yellow 100% cotton tee for both the fellas' crew-neck version and the ladies' flattering v-neck version. Thanks for stopping by. Stay intense, you glorious gazelles.
---
Ben & Mike T-shirt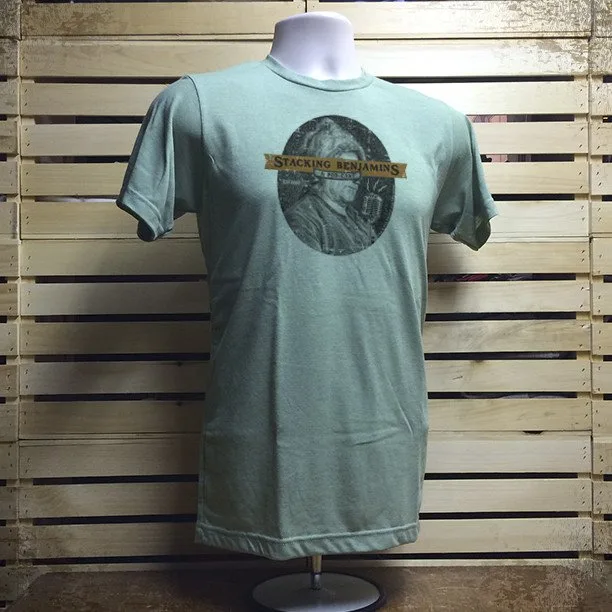 Ben would have liked microphones. Most great orators do. This design features Mr. Franklin getting ready to drop some knowledge on the mic. Printed on a green heather poly/cotton blended tee. Very comfortable, soft and lengthy for those long nights spent stacking your own Benjamins. Always be closing… er… clothing.
---
Ben-opoly T-shirt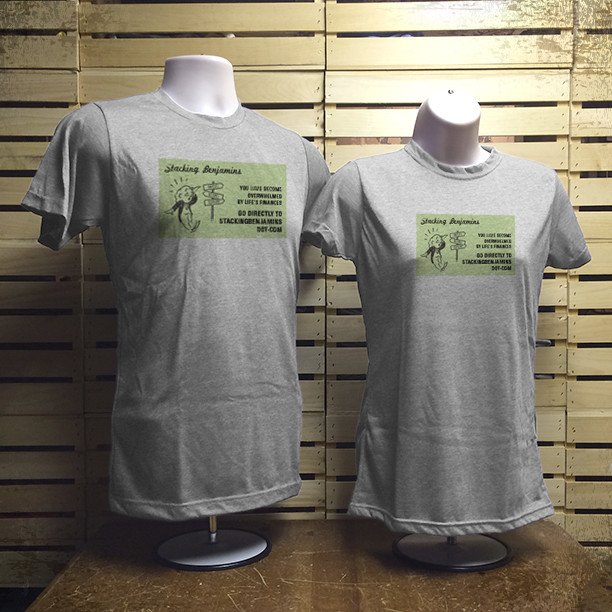 Do not pass GO. Well… at least wait until you grab one of these Monopoly®-inspired tees designed for them fine Stacking Benjamins podcast people. Printed on a very soft/comfy heather grey poly/cotton blended tee for both the fellas and the ladies, but the girly version is a little more form-fitted, so be sure to check the size chart before ordering. Proceed directly.
---
The Basement T-shirt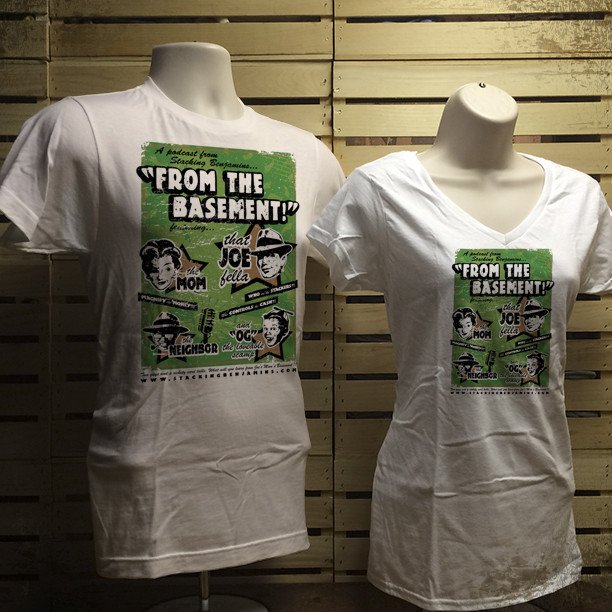 You know the castmembers. After getting through a few of the Stacking Benjamins podcasts, one starts to feel deeply connected to the likes of Joe, OG, Neighbor Doug and of course, Mom. Stay connected with your learnings from Joe's Mom's basement by donning one of these t-shirts, modeled to resemble the over-dramatic nature of a film noir movie poster. Printed on off-white 100% cotton for the fellas, and a nice white v-neck cotton tee for you dames. From the basement, to you.
---