Welcome back to yet another week of financial nerdery here at Stacking Benjamins! Today's show is on point for those of us who are natural introverts or have become that way after this long period of isolation. We welcome Matthew Pollard to the basement to discuss techniques that will allow even the most introverted of us to still male human connections and build our network. If that weren't enough, we also have a couple of titillating headlines to share. Read on and tune in!
---
We're only able to make three shows a week with the help of our sponsors.
Navy Federal Credit Union
If you're an active duty service member, veteran, D-O-D civilian, or military family member, you can join Navy Federal. That means if you've served in any branch of the military–you can join Navy Federal Credit Union. You could pay no fees, get low rates and rate discounts, plus earn cash back and grow your savings. Visit NavyFederal.org for more information.
M1 Finance
With M1, you can invest how you want -with access to fractional shares and unmatched automation – for free. With M1 Finance investing is smarter, automated, and easier than ever before. Sign up and get $30 to invest at M1Finance.com/sb
---
Our headlines
Police seize $60 million of bitcoin! Now, where's the password?
"FRANKFURT (Reuters) – German prosecutors have confiscated more than 50 million euros ($60 million) worth of bitcoin from a fraudster. There's only one problem: they can't unlock the money because he won't give them the password.

The man was sentenced to jail and has since served his term, maintaining his silence throughout while police made repeated failed efforts to crack the code to access more than 1,700 bitcoin, said a prosecutor in the Bavarian town of Kempten.

'We asked him but he didn't say,' prosecutor Sebastian Murer told Reuters on Friday. 'Perhaps he doesn't know.'

Bitcoin is stored on software known as a digital wallet that is secured through encryption. A password is used as a decryption key to open the wallet and access the bitcoin. When a password is lost the user cannot open the wallet."
Joe's big takeaway is that there really is no surprise takeaway, other than Bitcoin is doing what was designed to do.
YouTube's Favorite Mortgage Strategy Has Millions of Fans. Here's How It Actually Works
The most popular video on Sam Kwak's YouTube channel has 3.5 million views. It's nothing fancy. Just a half hour of Kwak talking. A few sheets of printer paper and a thick black Sharpie his only props. But it offers something viewers can't resist: the promise of magically paying off a mortgage at extraordinary speed.

'Mortgages kind of suck,' he declares, sitting in a glass enclosed conference room, an empty office spread out behind him.

Kwak, now 28, posted the video in September 2017 after learning about the strategy at a seminar. The video lays out a scheme he claims can help borrowers pay off a 30-year mortgage in just seven years and save tens of thousands of dollars in interest. A follow-up published in May 2019 has been viewed over 900,000 times, including a big surge in traffic around the start of the coronavirus pandemic in March.
The concept for quick mortgage payoff, in simple terms, is to get a mortgage, take out a home equity line of credit (HELOC), take money from the HELOC and apply it to the mortgage's principal, continue making regular mortgage payments, and pay off the HELOC as quickly as possible. Rinse and repeat.
Joe confirmed that the math does, indeed, check out. It is a way to reduce your mortgage payoff period to seven years from thirty. However, this method does involve a great deal of risk and a lot of plates in the air simultaneously. 1. Your income must be great enough to support regular mortgage payments plus rapid repayment of the HELOC. 2. Everything hinges on you not missing a step…if you make a mistake, miss a payment, or have your income reduced, then your home could be at risk. 3. This method may divert resources away from other financial priorities, such as college savings, retirement contributions, opportunity cost arising from not being able to invest in the stock market, etc.
The takeaway for this piece is, while there is nothing wrong with an extremely accelerated mortgage payoff plan, be absolutely sure that it fits your situation before pulling the trigger.
---
Matthew Pollard: Networking for Introverts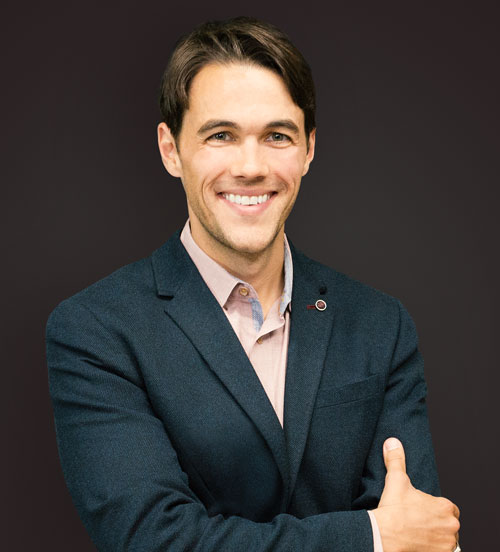 Interview with Matthew Pollard
If you do not know who Matthew Pollard is, to say he is exceptional is an understatement. Before the age of thirty, he was responsible for five multi million dollar success stories. He shares with us networking strategies for those of us who just aren't as social.
The concept of an introvert is often misunderstood: rather than the assumed avoidance of social settings for the sole purpose of avoiding people, introverts tend to get their energy from solitarity. However, this does pose a problem when it comes to traditional career advancement and opportunities. The stereotypical way to get your name out there and be noticed is to attend professional events and mingle.
If you are anxious about attending an event, look for more casual meet ups of interest in your area on sites/apps such as Meetup. Matthew encourages you to do a little research about who responded as they will attend, check their LinkedIn profiles, and reach out to them asking if they think you should attend. This method can really relieve some of the stress of getting out of your comfort zone by knowing someone else who will be there. This will give you a place to start conversing.
The evolution of sales
Today's emphasis on sales has necessitated the need to be outgoing and personable to a large audience. It was not always this way, however. The urbanization of society changed the way salespeople did their jobs – in the past, your neighbor might stop by frequently to offer products or services and check in on a regular basis. With the growth of cities, the traveling salesman was born whose goal is to sell as much as possible and not have to worry about running into the customers again. Sales became more transactional.
With the dawn of the internet age and social media, the salesperson can no longer escape responsibility for selling a poor product or service. Bad reviews online will haunt the manipulative salesperson, and the informed consumer will likely do business with someone else who has cultivated a sterling reputation.
How to adapt as a salesperson
Matthew says he is very introverted, and struggled to identify as a true salesperson. He used the introverted status to his advantage, and dug deep into widely available material to teach himself how to overcome his insecurities and become the number one salesperson in his company. Youtube was a huge catalyst for him – allowing him to study and perfect his systems in the comfort of his own home.
Honing your system and skill set
For aspiring and current salespeople, Matthew cover principles in his book, two of which are to be strategic and prepare.
Be Strategic. 
Do not define yourself by your functional skill. By telling someone your job title upon introduction, they are likely to automatically put you into a preconceived box. This can automatically disqualify you from their interest if they already have someone who fills that role (accountant, attorney, mechanic, etc.). Matthew Pollard shares a story of helping an insurance salesman.
He helped this person by bringing out why his passion is selling insurance. The man related a personal story about how his grandfather, who hustled and started his own farm and employed many people, got sick and had to sell the farm in order to pay his medical bills.  This could have been avoided if he'd had medical insurance – what this man was selling.  He changed his title and mindset from "salesman" to "hustle lifeguard." When someone asks what that means, it opens the door for him to relate the stories of helping others and piquing their interest. Joe adds that the mindset shift from being "me" focused to focusing on the needs of others enabled this man to grow personally and grow his business.
2. Prepare. 
This may seem like the most natural component to introverts – preparation.  Matthew Pollard encourages introverts to build a script and practice so you can feel natural in conversation and control the flow of the conversation.  Practice with a family member or friend who plays the role of the tough customer.  Once you are more practiced and comfortable, actually book a networking event two-to-three weeks out – either in-person or virtual.  Reverse engineer the encounter the event…practice three hours in total with a family member (one hour at first, then two hours), and use the experience to find the best way for you to be in your element.
Summary
The Introvert's Edge to Networking: Work the Room. Leverage Social Media. Develop Powerful Connections is chock full of helpful advice to help those of us who do not naturally connect with others to do so.  It is an easy and fun read, not to mention it contains real advice that, if applied, can help you succeed in mastering social situations.
A big thanks to Matthew for helping all the introverts in the world – me included – for providing some great advice on networking.
---
Doug's Trivia
Joe's mom's neighbor Doug's trivia asks: How many people, out of ten, are introverts?
---
Justin asks: What is the difference between an IPO and direct listing?
Answer: An IPO is when a private company, though an investment banking firm, creates shares of the company, to be sold to the public. As a retail investor, you can apply through your brokerage firm to get in the IPO – before the shares become available to the public.
A direct listing is making the existing shares of the private company public, not going through an investment banking firm. It is very similar to the IPO, just cutting out the middleman.
---
A big thanks to Matthew for talking networking with us today! You can find the short form show notes HERE.
Written by: Kevin Bailey
Did you love today's show? Share it below!
✕
Join 9K+ Stackers improving their money savvy.