Establishing your BEST financial habits means realizing that it isn't about being great today or tomorrow; it's about doing the right things over and over again for the long run. Today we talk to the creator of a documentary specifically about a long run. 3100, Run and Become is the story of an ultramarathon that covers (shocker) 3100 miles. Better yet? It's run around a single New York City block. Sanjay Rawal will take us through the event, his making of the film, and we'll talk about topics that have everything to do with finance. 1) Finding what you love; 2) Chasing a dream; 3) Knowing your weaknesses; 4) Finding your state of "Flow"; and more. The cool part for us? We get to talk finance in a way that you've probably never heard it talked about before.
During our headlines segment, another deceased celebrity's estate is an arm wrestling match for the heirs. Sigh. We'll tell you who's fighting for the cash and discuss what YOU should do to foolproof your estate plan from your greedy family. Then, in our second headline, credit card reward programs are everywhere… but just like ice cream brands, they're not all created equal. We'll talk pros and cons of credit card rewards during our second piece.
As if that's not enough, we keep bringing it! During our Haven Life Line segment, we'll answer a question from Jason. He's wants to retire in his 40s. If Jason rolls his Roth 401k into a Roth IRA, will he be able to withdraw the cash without the tax penalty? Does the 5 year conversion rule still apply?
Then, in our letter segment David is just starting to pay attention to his financial situation. He wants to know what the advantage would be of using a financial advisor or buying funds that have high expense ratios over doing it himself. Couldn't he just do it on his own and save extra cash? We'll surprise Jason with an answer he doesn't expect, and hopefully surprise you, too.
And don't you worry, we'll still have time for some of Doug's very special Benjamin Franklin themed trivia.


Show Notes:
<3:49> Headlines
<16:07> Sanjay Rawal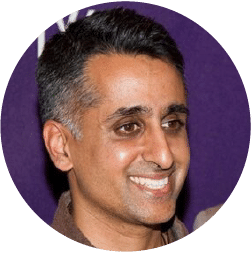 Want to check out more about Sanjay's movie? You can learn more at his website or by clicking below:
You can check out Flow, the book Joe mentioned during the interview here:
Flow: The Psychology of Optimal Experience (Harper Perennial Modern Classics)
<38:17> Doug's Trivia
Benjamin Franklin is one of two founding fathers on U.S. currency that were not a president. Who is the other founding father?
<45:05> Haven Life Line
If you roll a Roth 401k into a Roth IRA, will Jason be able to take out the cash without the tax penalty? (In his 40s, before he's 55.) Does the 5 year conversion rule apply?
<49:14> Letter
David has recently started to pay attention to his financial situation and has some questions about using a financial advisor. Read his letter below:
David –


Hey guys, I am a 41 year old who just started to pay more attention to my financial situation and credit your show for this. I recently started listening to podcasts and came randomly across your show.

Anyway, my question is this: What is the advantage of using a financial adviser and buying mutual funds or any recommended funds that usually have expense ratios in the 1-2 percent range?


I get that they can diversify and manage acute issues with certain economic trends, but why can't I just diversify by buying SPY, QQQ, DIA and then throw in a vanguard international ETF, REITS, US savings bonds, ETC. thus paying much less in expense ratio.

I feel like i cant get a straight answer on this.


I realize that you may not want to answer this question based on advertisers and people you work with but if you could just write me back and say "go for it" it would be much appreciated. thanks guys
Join us Wednesday!

✕
Join 9K+ Stackers improving their money savvy.