Whether for holidays, office events, or social get-togethers, December feels like the official month of parties. If you've ever thought about hosting your own event, whether this month or any other, you can feel the need to break the bank so that your guests feel special. But what if you could host a better event without emptying your wallet? That's why today we're thrilled to help you create your best event with the help of an extra special guest: celebrity party planner David Tutera. We'll talk invitations, decorations, food, activities and games, plus parting gifts and LOTS more. You'll feel better prepared to be a great host after today's show!
Plus, during our headlines, Fidelity Investments is out with their look at 2020. What are savers hoping for in the New Year? We'll help you jump start your New Year's Resolutions with the help of Maura Cassidy, Vice President of Retirement & Small Business at Fidelity Investments about the takeaways. You may be surprised by some of this year's findings AND some of the takeaways. Also, we'll cover a piece from Barron's about the impending stock market downturn. Should you begin making adjustments for the big drop that might be just around the corner?
Later we'll throw out the Haven Life Line to Mark, who only keeps one month of his emergency savings liquid. The other five months of savings are in a 15 month CD with his bank. Is he making a mistake if a "real" emergency were to come up?
Of course, we'll save some time for Doug's trivia.


Show Notes:
MagnifyMoney Voicemail
Thanks to MagnifyMoney.com for sponsoring Stacking Benjamins. MagnifyMoney.com saves users on average $450 when they compare, ditch, switch and save on credit cards, student loan refinancing, checking, savings and more. Check out MagnifyMoney.com for your savings.
<> Headlines
<> David Tutera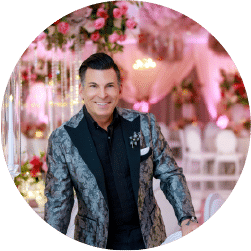 You can find more from David at his site: DavidTutera.com
<> Doug's Trivia
Which actor has starred in the most Hallmark films?
<> Haven Life Line
Mark keeps one month of emergency funds in his savings, and has another 5 months of emergency funds in a 15 month CD. Is Mark making a mistake?
Want the guys to answer your question? You can call into the Haven Life Line and get your question answered on-air HERE.
Join us Wednesday!
We'll keep our holiday theme going strong this week. Today we got fantastic advice from David on how to be the best party planner you can be, on Wednesday? How to SURVIVE all the parties this month without going insane (or broke)!
✕
Join 9K+ Stackers improving their money savvy.