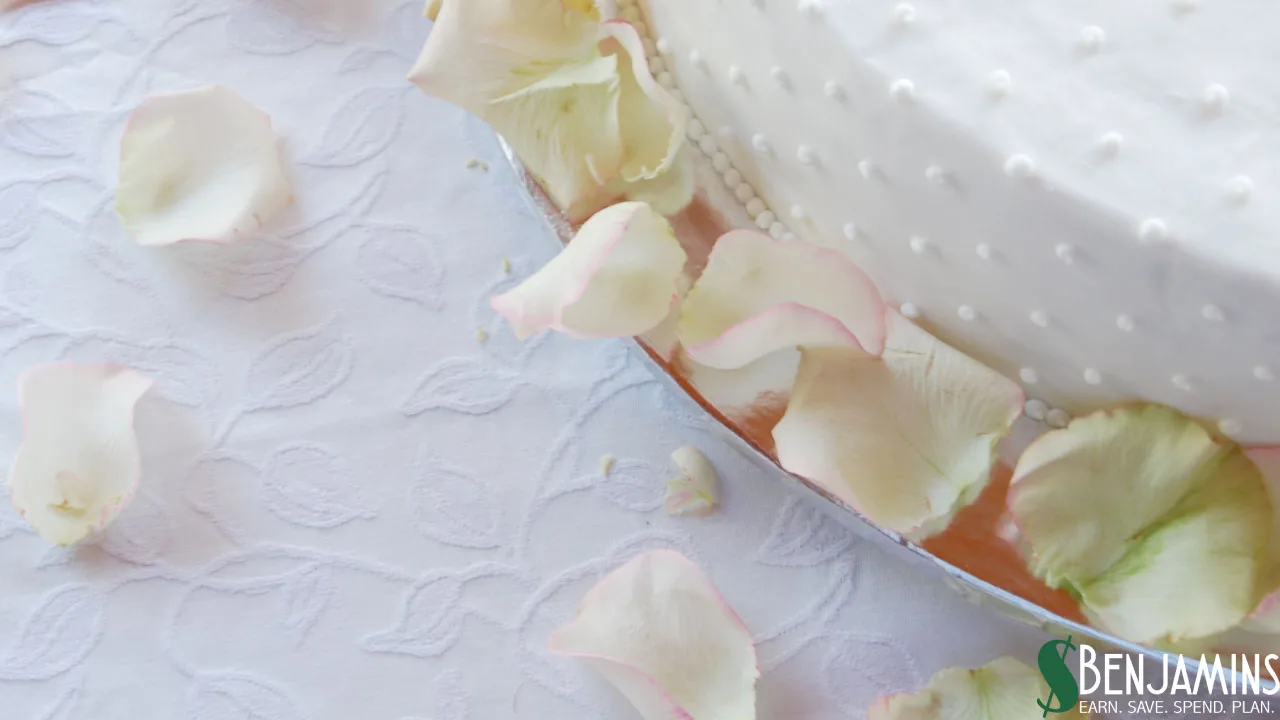 …in which we discuss whether it's better to have a frugal wedding OR a big wedding that your guests help pay for by pitching in some cash.
Joe:
I saw this on Pinterest yesterday: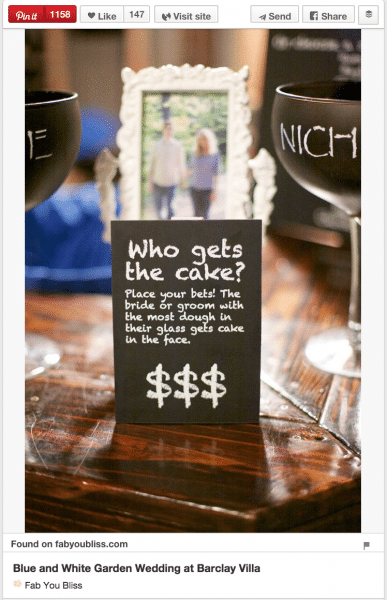 That's unique, isn't it? It's already been pinned about 1200 times, so I'm not the only one who saw it and had an opinion.
The average cost of a wedding is skyrocketing. According to popular wedding site TheKnot.com, the price tag on an average wedding reached an all-time high of $29,858 in 2014. That's a TON of money! How do you pay for it?
I think you have two options. Number one is to do less. Cut more. Kick people off your guest list, skip the dinner, save on entertainment, use paper plates…..all things that make the event smaller and more frugal.
Some people don't necessarily have that option.
If you have a huge family and can't cut the guest list, there are some sacrifices you'll have to make, but what about asking your guests to help chip in for the wedding?
Your guests already fund much of your newlywed status by bringing gifts. Why not ask them to give a little bit and give them something in return? ….like cake in the face of either the bride or the groom?
Kathleen:
I remember the first wedding I went to with a money ask. I think it was called the "dollar dance" and it was basically what you'd expect: the bride and groom dance together, and for a dollar you can cut in with either side. I watched this and thought, "why on earth are they doing this?" I think they "made" around $40 from their friends and relatives. Mostly relatives. It didn't sit right with me.
You don't have to tell me how expensive weddings are — holy smokes, I learned that lesson myself last year — but I think asking for a few bucks in this way is tacky. A cash bar saves you way more than a "cake in the face" tip jar (and let's not talk about how likely you are not to come out ahead after you buy wine glasses, then do whatever crafting you need to do to bling it out) and is a lot less offensive.
Nickel and diming your friends and family, especially if they've gotten on a plane, train, or an automobile, feels icky. You should be thankful they've taken time off work in order to spend your special day with you.
The way I feel about this is the same way I feel about flying Southwest instead of Frontier Airlines. They're similarly priced discount airlines, but once you get to the airport, the similarities end. Southwest lets me check two bags for free while Frontier has a weird pricing model that charges me more to carry on a bag than to check it. Southwest hands out free drink tickets like it's their job, while you have to pay money to have a soda on Frontier. Sure, both airlines get you from point A to point B in the same general manner, but one leaves you happy while the other makes you grumpy. So, I'm all for cutting costs where you can, and making things as frugal as possible, but I draw the line at giving my friends and family a "Frontier Airlines" experience.
Joe:
I don't know. I come from a family that would get mad if you DIDN'T have a dollar dance. It's such a piece of the wedding culture where I'm from that it's expected.
Doesn't it depend on the tone of your wedding? If you emphasize the fun of the cake throwing versus the "help me pay for this big huge wedding" you're going to come off as less cheesy. If I attended a wedding and you asked me to put a buck in the jar to throw cake either the bride or groom, I'd probably put a $10 in one. Not because I like the activity (or really care) but because I want to help out the new couple.
I just finished a mastermind call about the importance of "asking for help." Is that part of the discussion here? Should the bride and groom be asking for help?
Kathleen:
You know what, maybe you're right. In fact, I think I agree: it all comes down to tone. If your wedding is bare bones (and hey, there's nothing at all wrong with that!) and you're asking for help because you really are trying not to go into debt for one party, that's one thing. But in my mind, you have to be careful. Did your flowers cost $5,000? Maybe this kind of thing isn't for you, then. But if you're having a wedding on a weekday or at a time where you're not expected to provide dinner, your guests will understand that you're doing what you can to cut costs. So hold a dollar dance, or promote the cake smash (HULK SMASH!), but be careful.
Joe:
I love it when women agree with me.
BUT even at an expensive wedding, depending on the culture, it might be acceptable. In our family, the dollar dance was seen as a time when each guest got a few moments alone with the bride and groom. The dollar was incidental. It was protocol to have it. In fact, I remember my dad getting mad at a couple weddings we attended that DIDN'T have it. He thought that if he was invited to a wedding, he should get a couple minutes to talk to them and thank them for inviting us. He really didn't care about the dollar.
I'm not sure how that applies to the cake smash….it probably doesn't. In that case, it has much more to do with the overall tone.
Kathleen:
Right, I think the thing that matters is to make sure what you're doing fits with your family's culture. The only way to find out? Ask your mom. Ask your future mother-in-law. Ask your aunt. Then, do whatever you want. It's your wedding, and you're never going to please everyone anyway.
What do you think? Are these traditions fun or tacky? Did you have a dollar dance at your wedding? A cake smash?
✕
Join 9K+ Stackers improving their money savvy.