Taking care of your finances is one of the essential aspects of self-care. Knowing your spending habits and staying within a budget helps avoid unnecessary stress or financial anxiety. However, as it turns out, money is still a subject that often gets overlooked ("out of sight, out of mind"), with many people thinking that it's simply something that comes and goes with every paycheck.
The good news is that if you tend to feel anxious every time you check your balance, there are plenty of ways to get your finances back in order. It's time to download a financial aid app or take a notebook and start tracking your earnings and spending to create a realistic budget for yourself. You should also remember to always look for ways to lower your bills by using websites such as heydiscount.co.uk (for UK-based Stackers) that allow you to snag the best deals. On top of that, paying off your debts will help you find financial stability, while learning to spend less and avoid living above your means will help you stay focused and motivated. Build and flex that financial muscle!
Continue reading this article for more tips that will allow you to practice financial self-care and help you regain control of your finances. With a few simple steps, you can make your money work for you and secure your financial future. Read on!
Track Your Spending
Forget about the "out of sight, out of mind" approach when it comes to your money – it will only cause you unnecessary stress and anxiety. Try to take a notebook or use an app to write down every purchase you make, from small coffee runs or your monthly phone bill to bigger expenses like new clothes or a weekend trip. While you can check your purchases online after the fact, when you're developing good money habits, we find it more effective to keep tabs of your expenses in real time.
Such an exercise can help you realize where your money is going, allowing you to make a realistic budget for yourself. This way, you'll know how much you spend on food, utilities, entertainment, and other essentials to see where you tend to spend the most money. Moreover, if you see that you need to limit the amount of money you spend on groceries, this doesn't mean that you can never buy your favorite snacks again. By becoming more conscious of your spending habits, it will be easier to cut the non-essentials and focus on the bigger picture.
Additionally, you should always try to do your research before you make any financial decisions. For example, even if you are worried about your health, you shouldn't rush when choosing the Medicare plan that would be best for you (check this article if you want Medicare Explained).
Pay Off Your Debts and Start Saving
Paying off your debts is another crucial aspect of financial self-care and something that will help you feel less anxious about finances. Some might say it is the most important step to financial freedom. As this guy named Dave in Tennessee likes to say, starting with the smallest debt first will give you a sense of accomplishment once it's paid off, and snowball the debt paydowns by applying the total payment amount to the next largest debt balance. Paying off your debts will also help you save up for larger purchases in the future and give you peace of mind about your finances. Financial nerds/purists will argue that this method may result in paying a higher amount in total interest. We at Stacking Benjamins believe that you should take the route that works best for you (here we go again with "all personal finance is personal.")
Creating a dedicated savings account and automating your savings will help you put money aside with every paycheck and track how much money you have saved so far. This will help you stay motivated and stick to your budget at the same time. If you're in the market for a shiny new "high yield" savings account, check out our sponsor, Magnify Money. There is no additional cost to open an account through them, should you decide to.
Create an Emergency Fund
Life is full of unexpected events, many of which can cause a lot of stress and financial anxiety. Building an emergency fund will ensure that even if something unexpected happens, such as breaking your car or losing your job, you will have some savings left to cover the costs and help you get back on track quickly.
The size of your emergency fund will vary depending on your lifestyle, monthly costs, income, and so on, but the rule of thumb is to put away three to six months' worth of expenses. Having an emergency fund will also allow you to breathe easier and sleep better at night, knowing that you have at least some money saved for a rainy day.
Set a Savings Goal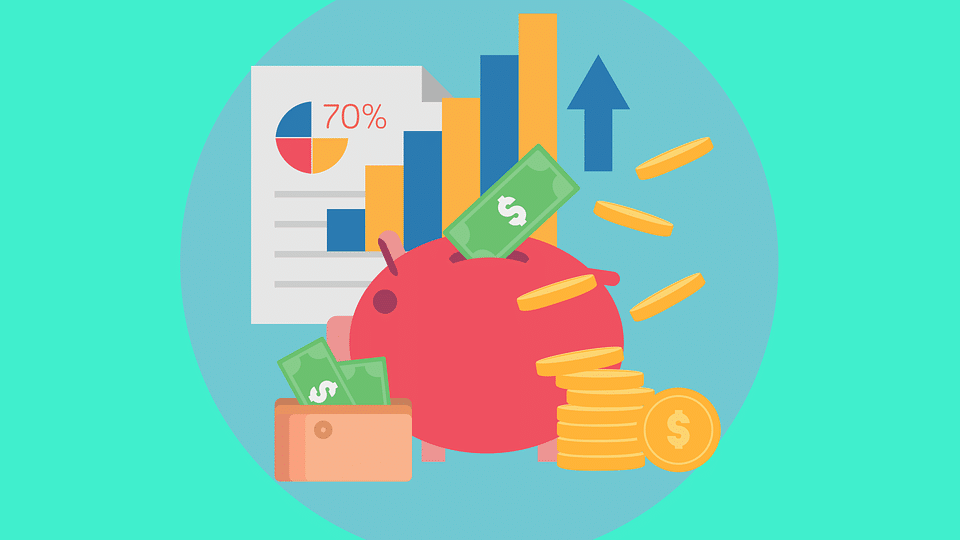 Setting a savings goal will enable you to stay motivated and create a sense of accomplishment every time you reach it. Whether it's a car, a house improvement project, or a dream holiday, setting a savings goal will give you something to work towards while ensuring that you don't spend more than what you earn.
Reaching your savings goals will require some discipline and effort on your part, but it will be worth it in the end. Moreover, if you find it difficult to stick to your budget or save up for your goal, consider looking for a financial advisor who can help you get your finances in order and achieve your goals. Keep in mind that it's a wise practice to keep your goals-based savings separate from your emergency fund savings (separate accounts).
Use Your Credit Cards Wisely
If you tend to carry around credit cards with high limits and no payment plan in sight, it's time to reassess your current situation. While most people think that credit cards are great tools for making large purchases without spending their whole paycheck on them, this is not always the case.
Carrying around too many credit cards can become problematic over time, especially if you tend to overspend with them. To avoid this issue, try keeping one credit card with a low limit inside your wallet and use it only for emergencies or special purchases. This way, you will be able to keep track of your spending habits better while avoiding getting into debt because of them.
Putting it all together
Learning to manage your finances better can help reduce anxiety and stress levels and prevent unnecessary purchases. Apart from tracking your spending and becoming debt-free, make sure that you include some time for self-care and set financial goals that can help you stay motivated and focused.
All in all, financial self-care requires discipline and hard work, but, in the end, it will help you become more responsible with your money while finding financial stability again. Remember that taking care of your finances doesn't have to be a complicated process, especially if you follow the tips above. Good luck!
✕
Join 9K+ Stackers improving their money savvy.